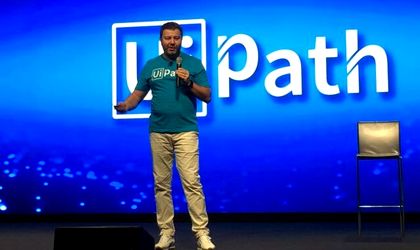 UiPath CEO Daniel Dines spoke at the How to Web conference in Bucharest on Monday and said that some of the company's employees became millionaires by selling a total of USD 35 million worth of shares over the past six months.
"As a software engineer or sales person, you shouldn't create your own startup to increase your wealth. You can go straight into a company where you can own shares. The people that came to our company six months ago have already tripled their share value. Out of this funding round, USD 35 million were shares sold by our employees. We've already turned a few people in Romania and other places into millionaires and we will continue to do so," said Dines at the How to Web conference.
He also said that UiPath, which is now valued at USD 3 billion, made a lot of mistakes on the way to its first funding round. "I never thought I'd be on a stage – I was usually in the crowd. IT engineers believe that a good technology means a good business. Wrong. For me, the 2005-2015 period was the most difficult of my life. I was constantly trying to find the perfect product, and failing. We had just enough money to survive. Before we got the first funding round, the money we had in the bank would have only been enough for another three months," he recalled.
Dines told UiPath's story and how all the major investment funds have already made investments, including Accel Capital, Capital G, Kleiner Perkins, Sequoia Capital, IVP, Meritech Capital, Madonna Capital Partners. "We got to the USD 1.1 billion valuation, and that's where tables turned. Investors started contacting us and trying to convince us to let them invest."
As for his advice for beginner entrepreneurs, Dines says they shouldn't try to enter a big market with well-established players without a significant differentiating element. "You can even hand out your app or product for free – you still won't have any clients, because the ecosystem is quite closed off, it's based on trust," he explained.
"We used to think a good software sells itself, but things don't really work out like that. You need a competent sales team to convince people to buy your products. Otherwise, those who have more sales people than you will be more successful."
UiPath started out with 10 employees and now has a total of almost 2,000 in offices across the world. "You can't build a global company from Bucharest. Now you can't even do it out of Silicon Valley. Our team now has people from india, Japan, America, Germany," the CEO stated.