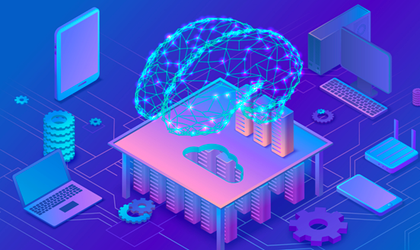 Placing the prowess of artificial intelligence out in the open for everyone to appreciate, OpenAI's ChatGPT created ripples in the tech industry like never before. Organizations around the world have garnered interest in artificial intelligence, specifically generative AI, to realign their business proposition and want to harness the power of artificial intelligence for their businesses. 
That is why, in the interest of our readers, we have compiled a list of AI & ML Software Development companies that can help you unlock your business potential with the help of artificial intelligence and machine learning.
Appinventiv is a full-service digital agency specializing in building AI and ML products for its clients. Empowering the vision of global giants such as American Express, Vodafone, KPMG, Asian Bank, EmiratesNBD, Virgin Group, Adidas, Americana Group, and Bodyshop. Appinventiv, as a pioneering AI development company has a highly skilled workforce of 1100+ designers, engineers, developer and AI/ML experts and they build AI/ML solutions for the companies that are going to thrive in the future.
Appinventiv has been delivering these cutting-edge solutions for the last eight years and has bagged prestigious industry awards for its leading AI/ML services. Their engineers and data scientists are also skilled in  IT Consulting, Blockchain, Cloud & DevOps, Web, Data & Analytics, etc., giving you a complete suite of services to skyrocket your business.
2. IBM
With a long history of invention and progress in this field, IBM is one of the top AI development companies. For many years, IBM has been at the forefront of AI research and development. As a globally renowned AI service provider, IBM offers many services to help businesses create, deploy, and manage AI systems.
Overall, IBM's AI services are intended to assist businesses in utilizing AI to boost productivity, foster innovation, and gain a competitive edge in their respective markets. IBM is a trusted partner for businesses looking to automate processes by leveraging the power of AI and guaranteeing assured success.
3. NVIDIA
In order to create and implement AI solutions, NVIDIA, one of the top artificial intelligence solution companies, uses machine learning, deep learning, cloud computing, and big data technology. The business helps startups and large companies speed the adoption of new technologies and solve tough problems with award-winning solutions.
NVIDIA was founded in the year 1993 and is known for developing scalable and secure software for enterprises. The NVIDIA team has created a big data enterprise platform that serves as a single point for data collection, processing, and distribution. By developing AI-based solutions, they guarantee to provide businesses with a number of advantages, such as automation, security, productivity, and efficiency.
4. Master of Code Global
Master of Code Global, one of the top-tiered AI development companies in 2023, was founded in 2004 and currently numbers more than 250 individuals across 6 offices worldwide. In order to design, build, and deploy applications, chat, and voice conversational AI experiences across a variety of channels, Master of Code collaborates with the top businesses in the world.
The company's AI specialist has worked on multiple conversational AI projects. As a leading artificial intelligence development company, Master of Code Global make design decisions based on data to ensure that your customers' pain points are dealt with and resolved through automation, lowering overhead expenses.
5. Amazon Web Services (AWS)
Amazon Web Services (AWS) assists companies at every level of their AI & ML adoption journey. The clients can utilize services with built-in generative AI or create new applications using well-known foundation models, all of which run on the most affordable cloud infrastructure for generative AI.
AWS, being one of the globally-renowned AI solutions providers, offers complete assistance with augmenting human performance, maximizing productivity, and solving challenging problems. The complete end-to-end data science process can be automated with the AWS enterprise artificial intelligence platform.
6. CrowdStrike
When it comes to the application of artificial intelligence and machine learning to endpoint security, CrowdStrike is the market leader and one of the top-ranked artificial intelligence development companies. CrowdStrike's AI software solution offers unrivaled protection against malware on and off the network.
With the most cutting-edge cloud-native platforms that safeguards and facilitates the people, procedures, and technologies that power modern organizations, CrowdStrike has redefined security. In order to keep customers one step ahead of today's attackers and prevent breaches, CrowdStrike robust AI-based solutions defend the most important areas of risk, including endpoints and cloud workloads, identity, and data.
7. Appventurez
As an AI services company, Appventurez strongly emphasizes automation as part of a futuristic sector, whether in operational workflow or commercial systems. With more than 10 years of experience in AI development services, Appventurez provides a broad range of software development services to a global clientele, with guaranteed on-time delivery, first-rate backend support, and best-in-industry bug fixes.
The company's cutting-edge AI technologies help companies in all sectors accelerate their digital transformation with top-notch software solutions.
8. OpenAI
An American artificial intelligence (AI) research facility called OpenAI is made up of the for-profit OpenAI Limited Partnership and its for-profit sister company OpenAI Incorporated. The stated goal of OpenAI's AI research is to advance and create a benevolent AI.
Currently, ChatGPT is the most sophisticated AI chatbot by OpenAI, which was created to produce text that appears human and responds to user questions. It can produce replies and responses in the manner that a human would after being educated on vast data sets.
9. H2O
H2O is one of the best top AI development companies providing an intuitive AI platform like H2O.AI, which offers open-source AI and machine learning solutions, a specialty of H2O.ai. It offers businesses driverless AI solutions.
For their mission-critical use cases, 18000 enterprises from various industries, including finance and healthcare, use open-source H2O solutions.  Some of H2O's major services include its open-source machine platform, open-source Spark integration, and an open-source solution tailored for NVIDIA GPU.
10. ScienceSoft
ScienceSoft is one of the most trusted companies developing artificial intelligence that aids in the planning and developing of AI and ML solutions for businesses. The organization has 33 years of data science and analytics experience, 9 years of image analysis experience, and 9 years of experience developing end-to-end big data solutions.
ScienceSoft has a team of more than 700 people available that are fully equipped to supply reliable AI/ML solutions for your business needs. The teams at ScienceSoft can develop cutting-edge solutions for hyper-personalization, preventative maintenance, better demand forecasting and decision-making, process optimization using computer vision and speech recognition, and more.
Choose the Right AI Development Company Today
The AI development companies listed in this article are continuously creating powerful AI-powered products that promote innovation across numerous industries. They have made important contributions to the field of AI by developing powerful AI-powered products, creating cutting-edge AI algorithms, and promoting innovation across numerous industries.
These top artificial intelligence solution companies can help you make informed decisions when it comes to choosing the right partner for your AI project. However, before making a final choice, it is crucial to consider the organization's pertinent projects, proficiency with a modern technology stack, geography, and time zones. Hire the right AI development company, and turn your AI project idea into reality.
FAQs
How do I hire the best AI development firm for my company?
While choosing from the list of the best artificial intelligence companies, it is crucial to consider the company's software development skills and track record of providing high-quality AI solutions. While working on a project, you must also look at the team's scalability and capacity to meet your unique goals and objectives. To learn more about their prior work, and customer service, it's also a good idea to look at their portfolio and client testimonials.
What is the cost of hiring an AI development company?
Working with an AI development company will cost you differently based on the size of your organization, the complexity and scope of your project, and the particular services you require. An AI development project can cost anywhere between $6,000 to $300,000.
What type of services do AI development companies offer?
AI consultancy, AI-based solution design and development, AI strategy development, AI-powered product development, and AI integration into current systems are just a few of the services provided by artificial intelligence development companies.