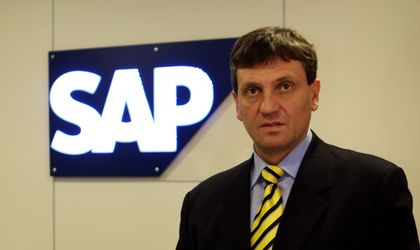 At the beginning of the year SAP kicked off employments for its nearshore delivery center in Timisoara. Valentin Tomsa general manager, SAP Romania, lets BR in on the stage of the recruitment process, but also reveals several other plans: SAP will soon inaugurate a new workpoint in Cluj and is analyzing the option of starting a new one in Iasi. 
How is the recruitment going at SAP ?
Since the beginning of the nearshore project, we have hired more than 200 people. We are on schedule with the employment program in Timisoara and also started hiring in Cluj, where we have recruited the first 40-50 people. In Bucharest we are expanding on a new floor . So I believe that we will finish hiring the 400 people sooner than 2014, as initially announced. The workpoint in Timisoara was opened in January but for the one in Cluj we will announce the official opening probably in July. Our employees are very young: the average age is 25 years old. We have focused on opening centers in the west of Romania because we need the German language since we deliver many projects in Austria, Germany and Switzerland. Another plus is the university centers there.
Are you considering opening centers in other regions as well?
We are considering the possibility of expanding east, and the city of Iasi is probably on the cards. We are still analyzing this move, but if we want to deliver projects in Moldova, Russia and Ukraine, then Iasi will probably be the first option. We run our business based on the concept of a nearshore delivery center. We need to be close to the clients both geographically and culturally so the clients served from Iasi would be from eastern countries.
What of the partnership between SAP and Samsung on the Romanian market? 
At the moment Samsung is our main partner in the mobility area. Currently we have small pilot projects on mobility that our clients are testing but my opinion is that this market will explode. In other countries, the degree of adoption is huge. The mindset is the barrier in Romania. In 90 percent of the cases, applications are seen as something you use once in a blue moon and pay EUR 2 for. So when you come and say you want to do an application that costs, for instance, EUR 15,000, there is opposition. In Western Europe, business mobile applications are used in very many domains: in retail, logistics and distribution, human resources, utilities, banking, and even in healthcare. They first penetrated critical areas, where they are direly needed. I think in Romania it will be the same.
otilia.haraga@business-review.ro