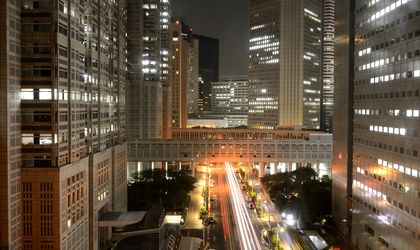 The tech industry is keeping jobs and business going, but it is also keeping trade going at this really difficult time for the economy. We can learn from other states when we're considering the best ways to promote Romanian tech around the world and working with partners across the globe to really boost our presence in overseas markets where we know there's a rapidly growing demand for IT services and products.
By Claudiu Vrinceanu
Whether it's edtech, cybersecurity, medtech or fintech, there are some good practices available for governments willing to help founders get their products and services to global markets.
UK model: Future Tech Trade Strategy
One example of good practices for Romania comes from the United Kingdom, where The Department for International Trade (DIT) has launched the Future Tech Trade Strategy, a series of policies aimed at increasing tech trade with countries in the Asia Pacific region.
One new tool for firms is the Tech Exporting Academy, which will provide advice to companies to help them expand. This is a pro-bono service which will include information on regulation, compliance, legal, tax, and intellectual property. It will be carried out in partnership with professional services firms including Deloitte, KPMG, BDO, EY, and Clifford Chance. All of these consulting firms have offices in Bucharest as well, so the Romanian government could learn from this practice in order to help tech entrepreneurs, as well from the new DIT Platform that will help firms attend international industry events and investor meetings. This virtual events platform will include virtual trade shows and provide online buyer/seller meetings and company/investor introductions. Moreover, a Digital Trade Network is being set up by DIT and DCMS. £8 million will be invested in a network to help businesses internationalise, focusing on Japan, South Korea, Thailand, Singapore, Indonesia, and Australia. This will involve tech experts located in embassies and high commissions.
Startup Sweden: a bootcamp programme
Another good example for Romania is Startup Sweden, a governmental initiative that accelerates the country's most promising tech startups, helping them on their journey to enter the global market. Striving to create environments where business flourishes, the government offers several national and international activities —all tailored to support entrepreneurs. For example, the accelerator programmes are free of charge and open to tech companies across Sweden. During the Bootcamp, entrepreneurs will meet some 30 investors ranging from business angels to investors as well as leading tech media houses. What is new and important for Romanian authorities is the fact the Swedish government chooses entrepreneurs who have global ambitions and want to share their experiences and knowledge with others.
The Netherlands launches Techleap.nl Rise under the Techleap.nl programme
With this new programme, Techleap.nl and top entrepreneurs are helping the most promising scaleups in the Netherlands to grow faster internationally. What is relevant for the Romanian government is that the number of beneficiaries is very limited, with only 10 scaleups participating in the first batch. As part of the programme, entrepreneurs will be put on the international map with corporates, investors, and media. Founders are encouraged in groups of ten participants to also learn from each other about the challenges of scaling up a company. They receive support and feedback from top Dutch entrepreneurs who share their own insights and lessons learned with the new batch of promising scaleups. The Dutch government will help a new group of entrepreneurs every quarter.