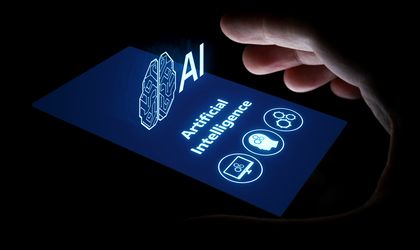 Despite the global pandemic, it's getting easier for Romanian startups to scale up — there's more money in early stage rounds and more companies are securing the investments they need to grow. Here are three tech firms that saw considerable growth in 2020 based on the financing rounds they raised in the last 12 months.
By Claudiu Vrinceanu
TypingDNA
Behavioural biometrics company TypingDNA raised EUR 6.2 million in a Series A round led by Gradient Ventures, Google's AI-focused venture fund, which also included participants such as GapMinder, Credo Ventures, Techstars Ventures, as well as returning private investors. The funding allowed the Romanian firm to advance the research and development of innovative typing biometrics technology and carry out its strategic plans.
For example, TypingDNA has recently updated its Authentication API to significantly reduce complexity for developers integrating typing biometrics with a single API call, while maintaining full functionality. It has also released a new free developer plan to provide unlimited API calls and users to software developers. TypingDNA's software utilises a proprietary AI algorithm to authenticate users, customers, and employees by learning typing patterns for each user based on the time and duration of various keypress events. This behaviour is collected, analysed and used to verify the user's identity.
Druid
Druid, a startup that develops chatbot technology for large companies, founded and led by Romanian entrepreneur Liviu Dragan, was valued at over EUR 8 million in a round led by Early Game Ventures. Angel investors also participated in the round. The company used the funds to expand rapidly on several international markets. One example is its partnership with Ashling Partners, one of the largest service providers in North America, which has a laser focus on hyper-automation. The partnership formalises a relationship aimed at expanding the offering of conversational RPA services and solutions to Ashling clients across North America. Moreover, based on the partnership with Microelectronic Group, a leading provider of software solutions, services, and equipment for the financial and government sectors, Druid expanded to markets such as Australia, New Zealand, and the South Pacific Islands, where its technology will be integrated into conversational automation processes for companies across the Australasia region.
Soleadify
Soleadify, a Bucharest-born startup that uses machine learning to create profiles for businesses in any industry, raised USD 1.5 million in seed-round funding from European venture firms GapMinder Venture Partners and DayOne Capital. Some business angels also participated at this round, through Seedblink, an equity crowdfunding platform based out of Bucharest, Romania. The first of the company's products is a business search engine that keeps over 40 million business profiles updated, currently being used by hundreds of companies in the US, Europe, and Asia for sales and marketing purposes. The company will use the financing round to continue to improve its technology and build distribution partnerships, as well as to continue its global growth by building marketing and sales teams.