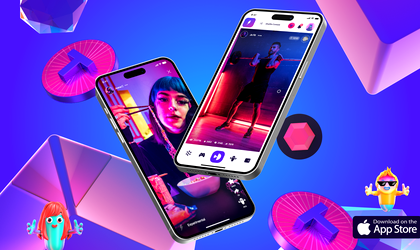 TOKHIT app, an original digital product developed by a Romanian start-up, with an innovative vision on social media, where the advantages of blockchain technology merge with creativity and financial freedom, is now available to download from the App Store, Here. 
TOHKIT means total freedom of expression, automated financial rewards for users, investment in unique digital creations, NFTs, absence of advertisements and at the same time a new infrastructure for creative collaborations with brands.
After testing the Beta version, during which the speed of the application was fixed and various functionalities were tested in order to improve the user experience, the app is now available for download on IOS devices.
Currently, in TOKHIT one can create and post video content that is rewarded with credits called Diamond HITT. Everything happens according to the reactions of the community, and users are the ones who decide if a posted material is of quality, reacting with various tools available (Star, Share, Comment, AirHugs). The content is organized into 2 feeds: Creative Feed, with live posts for 36 hours, and Instant Insight, based on live posts for 24 hours, which offers a very special full screen experience.
Creatives can already explore a whole suite of tools to make quality content, from different visual effects to Frames, Gifs, Stickers or AirHugs. The latter will undoubtedly become the stars of the emoticon collection, as "digital hugs" propose a mode of interaction on another level (more than a like, for example).
"We are betting on our vision to create multiple monetization and rewards systems for both content creators and consumers. In Social's current products, big creators earn revenue from brand collaborations, while small creators and consumers get an experience alone. At the end of the day, they do not have any monetary gain although, according to statistics, the time investment is considerable and reaches at least 3-4 hours spent daily on social networks. That is precisely why TOKHIT offers users as well a Time Mining module through which they "mine" with the time spent in the application and get rewarded in HITT TOKENS, which can be collected and traded on exchanges when the token will be listed", said Andrei Ureche (Vandy), TOKHIT founder and CEO.
The Games section of the app is one that developers are banking on to attract users. Currently one game is available, others will be introduced soon. The plan is that in the future TOKHIT will have hundreds of hyper casual games, on Play to Earn and Pay to Play to Earn systems, where users will be able to acquire different Rewards, coins HITT or credits that can be used in or out of the app.
In addition to all this, the TOKHIT app is also the first application through which NFTs can be promoted, it is the first social app where the user's personal profile can be transformed into an NFT on the Blockchain to validate its authenticity.
The developers believe that those who will quickly adopt the new social network are young people connected to everything new in the field of technology. Active and pragmatic, they are looking for a field where they can put their creativity to good use and gain from it.
The application is currently available in App Store, the focus on a single type of device allowing the rapid optimization of the application's operating parameters. After the Beta release, development will also begin on Android and Web View.
TOKHIT promises to always come up with other features, as attractive as possible for users, so in the next phases of development, new monetization systems, GAINHIT and POPHIT, will be implemented, as well as a category of REWARDS, which have all the data to become the stars the application.