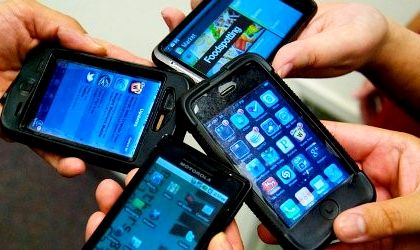 The smartphone market recorded the biggest gain in the first three years in the first half of 2018, amid the acquisition of more efficient terminals at a higher price. Thus, in terms of value, the smartphone market in Romania climbed about 40 percent in the first six months of the year compared to the same period last year.
Consumers have begun to focus on higher-value phones, showing a preference for purchasing flagship manufacturers. In the purchasing decision, consumers were helped by operators' offers, as well as aggressive promotions of retailers, both offline and online.
In addition to changing user behavior, the evolution of the smartphone market has been driven by general consumer growth as well as by the change in smartphone maker strategy that has launched more mid-and high-end phone models in the market, so consumers' attention to these categories of smartphones.
Thus, the average price of smartphones sold in Romania exceeded EUR 200 in the first half of this year, up 13 percent from the average price recorded last year.
What smartphones people buy
In the first six months of the year, Romanians have focused, in the purchase of smartphones, on medium and top range phones available in the market. Moreover, they wanted phones with an increasing battery life.
Anticipating these trends, Avenir Telecom launched earlier this year the series of premium Energizer mobile phones, long battery life models and end-users with protective accessories to the highest quality standards.
"We will continue this year and we will introduce new models of Energizer phones this autumn. Thus, the range of phones will be complemented by eight new models, five of which will be top-rated, high-performance and high-quality smartphones with long battery life, performance features with high- end, but at a better price," says Costin Soare, general manager of Avenir Telecom.
Increased smartphone usage and Internet and mobile data consumption has positively influenced smartphone sales for the acquisition of high-performance phones as a necessity to use in activities such as gaming, live streaming, Internet browsing at 4G speeds, socializing, etc.
At the same time, the development of the smartphone market was also supported by telecom operators. Thus, allowing users to purchase smartphones with unlimited 4G internet at prices starting at EUR 5 per month, as in Telekom, for example, has been another important driver for smartphone sales growth .