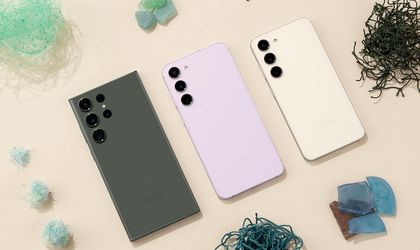 Samsung has launched a new flagship Galaxy S23 range. The three models, S23, S23+ and S23 Ultra, seem intended to cover all kinds of demands from the public.
After getting my hands on the phone, I can say that it clearly shows that it is a flagship. The quality of the materials is top notch, the screen excellent, the performance the same.
And the prices were announced today. The starting price for the S23, the smallest model, is RON 4,699 and goes up to RON 4,999. The Galaxy S23 series is available for pre-order starting February 1 on Samsung.com, carriers and retailers, online and in stores. For the S23+, the price is RON 5,969 or RON 6,599, and for an Ultra it starts from RON 6,999 and reaches RON 8,999.
When pre-ordering any model from the Galaxy S23 series between February 1-16, users receive doubled storage capacity, an e-voucher of 500 lei and the value of the current phone, if they come with it for exchange. In addition, I can receive the new device before February 10th. For details related to the offer, visit https://www.samsung.com/ro/precomandagalaxy/
All models have a Snapdragon 8 Gen 2 processor, and RAM starts from 8GB and goes up to 12GB, while storage starts at 128GB and goes up to 1TB.
The screen has a size of 6.1 inches on the S23 model, 6.6 inches on the S23+, and 6.8 inches on the S23 Ultra. The first two have rounded corners, while the Ultra follows the Note model and has sharp corners.
The cameras come with quite a few innovations, but we will come back to them.
Specifications