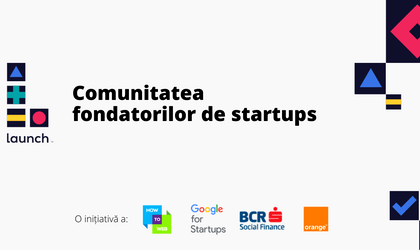 How to Web, Google for Startups, BCR Social Finance and Orange România are announcing Launch – Romania's community dedicated to startup founders aiming to help entrepreneurs increase their chances of success when launching a tech startup in Romania.
The Launch community offers free access to all the resources that a founder may need to go from a tech product to a successful startup, such as expertise, capital, and pilot projects.
"Launch is democratizing the access to the most important resources that a startup founder has" comments Bogdan Iordache, founder of How to Web & co-organizer in Launch.
The founders that are members in Launch community get access to:
A kick-off program for three weeks that put the founder in the center of all the opportunities that Launch has to offer.
A monthly check-in with the community co-organizers to identify the biggest blockers that a startup founder meets, and help them keep a coherent growth working path.
Free access to know-how through direct connections with other founders and experienced entrepreneurs, during 1:1 sessions, pitching rehearsals and discussions with companies interested in running a pilot project.
"Google for Startups helps founders and their startups to grow through digital products, mentors, and top resources", mentions Dan Oros, Head of Marketing @Google & YouTube Romania from Google for Startups.
The Launch community became active at the beginning of this year, in February 2021, and since then 15+ startups have joined. Romanian founders can easily apply to join online on Launch website, and should consider that April 26th is the last date to enter the third cohort of startups. Launch will open its gates each month for a fresh batch of startups, and founders only need a product or a pilot project, alongside a pitch deck to showcase their progress and growth potential.
"BCR Social Finance supports entrepreneurship with social impact, to create fresh and healthy tech startups that can grow and scale locally, so that their founders would continue to stay in Romania", is adding Ștefan Buciuc, CEO of BCR Social Finance.
More than 100 of mentors, successful founders and local experts from the tech industry, alongside investors and companies interested in building pilot projects have joined the Launch community. Among them there is easy to recognize people from companies and venture capital funds such as Google, BCR, Orange, Adobe, Microsoft, UiPath, Bolt, Globo, Mastercard, Verifone, METRO.digital Romania, TypingDNA, FintechOS, Pago, SmartBill, Mobilpay, Zitech, Earlybird Venture Capital, Simple Capital, eMag Ventures, Gapminder Venture Partners, Seedblink, and more.
"Orange Romania supports local entrepreneurs through access to the latest communication technologies, as well as through expertise and openness to pilot projects. It is important for us to grow a relevant and sustainable business environment, that is why we complete the business modules with an applied one to the responsibility towards the environment and society ", adds Monica Obogeanu, Startups Program Manager at Orange Romania.