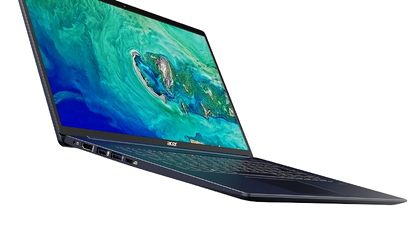 The new Acer Swift 5 is the lightest laptop in the world right now with a weight of just 990 grams. It comes with 8th-generation Intel Core processors and a 15.6 inch and 1920 x 1080 full HD IPS touch screen display, delivering an incredible 87.6 percent viewfinder on the screen.
Acer today announced the price and availability of the Swift 5 (SF515-51T) notebook, the world's easiest laptop of 15 inches. Designed for users who want an enviable PC, Swift 5 offers exceptional performance in an elegant chassis weighing less than one kilogram (990 grams).
The Swift 5 (SF515-51T) is powered by the latest 8th generation Intel Core i7-8565U and Core i5-8265U processors to deliver responsive performance and up to 10 hours battery life, for daily productivity. Equipped with Windows 10, the new Swift 5 is a productivity device.
"Acer constantly develops new ways of designing thin and lightweight chassis models that host the latest technology with performance features," said Jerry Hou, general manager, Consumer Notebook, IT Products Business, Acer Inc." With a weight of less than 1 kg, the new Swift 5 delivers the best in an ultra-portable notebook: a sleek chassis, sleek design and narrow frames with superior performance and extended battery life."

"The newest Intel Core 8th generation processors have set a new standard for fast, integrated Gigabit Wi-Fi mobile PCs combined with Intel's faster performance, longer battery life and better voice interaction and touch, "said Chris Walker, vice president of Client Group Computing Group and general manager of Intel's customer mobility platform. "We worked closely with Acer to bring these new levels of performance and connectivity to life with the latest Swift models."

"Acer continues to innovate with Swift 5, a Windows 10-powered PC that has a lot of power in an elegant, lightweight and ultra-slim design," said Paul Donovan, vice president, Partner and Device Solutions, Microsoft Corp. "Swift 5 delivers superior battery life, portability, and convenience without password-based logins with Windows Hello, for those who are always on the move either for business or for personal use."
The innovative design of the new Swift 5 is characterized by the upper and lower lids that are made of a magnesium-lithium alloy for a slimmer look while ensuring durability without bending or twisting. Magnesium and aluminum alloy palm support provides a solid foundation when using your keyboard and trackpad. The thin chassis is only 15.9 mm, but they are available for a fingerprint reader that supports Windows Hello, so users can connect faster to their accounts and keep the device safer.
In addition to the fast Intel Core processors, the Acer Swift 5 is also equipped with up to 16GB of DDR4 SDRAM and an NVMe PCIe SSD with up to 1TB capacity for fast upload times and file access. Users can take full advantage of system performance and long battery life, even in the evening, in low light conditions thanks to the LED keypad.
The Full HD 1920×1080 Touch Screen of the new Swift 5 has an ultra-narrow frame of only 5.87 mm (0.23 inches), delivering an incredible screen-to-body ratio of 87.6 percent to create an eye-catching viewing experience. Broad viewing angles make it easy to stream video with friends and colleagues. BluelightShield technology reduces blue light emissions for night viewing, while Acer Color Intelligence dynamically adjusts real-time gamma and saturation for optimum color and screen brightness. In addition, Acer TrueHarmony and Dolby Audio technologies deliver high-quality sound through dual stereo speakers.
Users benefit from a fast and reliable WiFi connection with 2×2 802.11ac wireless Gigabit. The Swift 5 is equipped with a USB 3.1 Type-C Gen-2 port that provides 10 Gbps high speed data transfers and supports device charging and display output, two USB 3.1 Type-A ports (one with charging in off mode) and an HDMI port.
Swift 5 with a 14-inch comes with the new Intel Core processors
Acer has updated its ultra-portable Swift 5-inch 14 inch (SF514-53T) models with the latest Intel Core processors to deliver improved performance and battery life. Equipped with the new Intel Core i7-8565U processors and the Intel Core i5-8265U, the 14 inch Swift 5 offers an extremely fast and responsive user experience and a battery life of up to 8 hours for increased productivity.
Equipped with a 14 inch Full HD screen, the sleek chassis of the Swift 5 (SF514-53T) weighs just 970 grams and is only 14.9 mm thick, making it a suitable device for people with an active lifestyle. It has a 15.6 inch design similar to the ultra-light but robust, with a magnesium and lithium alloy construction for the upper and lower lid, and a magnesium and aluminum alloy palm rest. Full HD Touch Screen IPS is surrounded by narrow frames of only 9.32 mm, so users can take full advantage of the content displayed.
Users can keep in touch with who they want thanks to the 2×2 802.11ac Gigabit wireless connectivity and can connect quickly through the integrated fingerprint reader thanks to Windows Hello. It has the latest ports: USB 3.1 Type-C Gen 1 (up to 5Gbps, display output and charging), two USB 3.0 (one powered off) and HDMI for easy connection of external gadgets.
The Swift 3 Series is equipped with 4G LTE
Swift Series 3 has been updated to include new models with screens of 13.3 inch and 14 inch frames narrower, thin aluminum chassis that open 180 degrees and the latest technology for performance and connectivity.
Swift 3 (SF313-51) is 13-inch notebook optimal for moving due to its high resolution screen Full HD 1920×1080 13.3 inch and integrated 4G LTE option with a super-light design 1.3 kg and a thickness of only 15.9 mm 4G LTE offers an affordable connection even when no WiFi network can be accessed Powered by Intel Core processors, it delivers solid performance and up to 13 hours battery life. Plus, the notebook offers up to 8GB of DDR4 RAM and an NVMe PCIe SSD with capacity up to 512GB. If you're looking for the best lightweight laptop available , the Acer Avanti series might be the perfect option for you.
The Swift 3 models (SF314-55 / SF314-55G) are equipped with a 14-inch Full HD screen and weighs 1.4kg and only 14.9mm thick with super-thin side edges of 6.1 mm. With the latest Intel Core i7-8565U / i5-8265U / i3-8145U, 8GB DDR4 RAM and a SSD PCIe NVME capacity up to 512GB, the system is fast and offers a lifetime up to 12 hours. In addition, it offers the option for NVIDIA GeForce MX150 graphics so users benefit from the performance they need for various intensive tasks such as video editing and casual games. Users can stay connected with 2×2 802.11ac Gigabit WiFi and can use the USB 3.1 Type-C Gen2 system for high-speed data transfer of 10 Gbps, power supply as well as display output.
Prices and availability
Acer Swift 5 with 15-inch screen (SF515-51T) will be available in North America since January 2019, from USD 1,099; in EMEA in November from EUR 1,099. Acer Swift 5 with 14-inch screen (SF514-53T) will be available in the EMEA in September from EUR 999.
Acer Swift 3 with 13-inch screen (SF313-51) will be available in the EMEA in October from EUR 799.
Acer Swift 3 with 14-inch screen (SF314-55 and SF314-56) will be available in North America since November, from USD 799; in the EMEA in January 2019 from EUR 799.