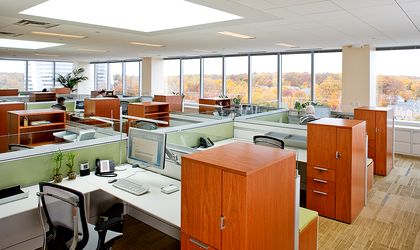 Companies in the IT sector are looking for employees outside the country and the best places to find specialists are in Europe, in countries like Italy, Greece or Spain. Good paychecks, a cheaper life and the fact that they do not need a work permit makes Romania a good place for European candidates. 
Romania has the highest number of IT employees in Central and Eastern Europe. With around 100,000 people working directly in this sector (as programmers, developers etc.) and another 84,000 in IT&C services, Romania was named the Silicon Valley of the region. In Poland, the closest competitor, there are only 100,000 IT specialists, even though the country is significantly larger than Romania.
But there are problems with the workforce. They started a few years ago when rising tech companies realised they couldn't find enough people. According to ANCOM, the sector needs 10,000 to 12,000 people every year. Schools and universities provide around 8,500 graduates in IT and 1,800 in telecommunications yearly.
The number of companies in this sector is over 20,000, of which more than 100 have over 200 employees. Most of them are in Bucharest, where there are around 51,000 employees, followed by Iasi with 20,000, according to the number of employees reported by the companies in the Moldavian city. Iasi has grown immensely over the past years due to the fact that the region is still under-developed compared to Bucharest, Cluj or Timisoara, so companies went to the other side of the country and managed to create a new big IT hub.
Cluj is already considered "the smaller capital" of Romania and it had the highest growth in the 2011 – 2016 period, of 81 percent, larger than Bucharest's 38 percent. According to the Romanian Association of Electronics and Software Industry (ARIES) the number of companies in Cluj was 1,439 in 2016.
"The relative growth rate of the previous year (calculated as the difference in the number of companies, compared to the value of the previous year) had two dynamics of variation. In the period 2011-2014, the number of companies rose at a rate of 5-7 percent annually, so for 2015 the rate would be 10-11 percent. As a result of Start-up Nation schemes, an even greater increase in the number of IT companies is expected, with the number exceeding 1717 companies at the end of 2017", shows the report.
Apart from these cities, the main counties where we find IT centers are Timis, Dolj, Brasov, Ilfov, Bihor, Sibiu and Mures. These cities cover around 94 percent of the total IT industry in Romania and have a 6 percent GDP share (together with communications technologies).
The turnover of IT companies located in Bucharest was, in 2016, RON 12.96 billion, followed by Cluj-Napoca with RON 2.62 billion, Iasi with RON 853.3 million, Timisoara with RON 819.9 million and Brasov with RON 600.3 million.
"There's a very big fight over the labor force. Many companies based in Cluj are starting to go towards other areas, while very large companies are opening centers in Oradea, Iasi, Serbia, Republic of Moldova. These are the centers to which they migrate," says Cătălina Ciubotaru, project manager at ARIES.
Today, the search for specialists is moving to other countries and some agencies said that were going to Vietnam to bring workers. "It is not a surprise that we're looking for people in Asia; Romania has salaries equivalent to those in USA in this sector. But it is hard to believe that people from so distant countries will come to Romania since they can find good jobs closer to the home," says George Butunoiu, head-hunting specialist.
"I know that companies in Romania are looking for candidates in European countries, like Italy, Greece or Spain. Or even France, as I was told by somebody in the field a few days ago. And it is easier to bring people from EU due to the fact that there is no limitation for workers, as it is with those from Asia," Butunoiu told BR.