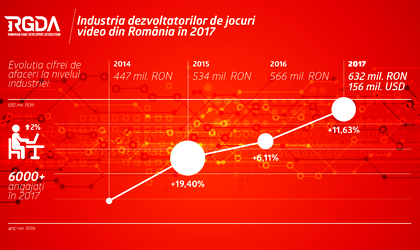 The turnover of the video game developer industry has grown 11.6 percent in 2017 to USD 156 million. At present, there are over 80 game development studios in Romania, of which more than 50 are in Bucharest, while other cities with a notable presence in the industry being Cluj, Timisoara, Brasov, Craiova and Iasi. The industry is made up of over 6000 employees working in Romanian studios of international companies or in independent studios with Romanian capital, their number increasing by 2 percent compared to 2016.
"The game development industry in Romania continues to grow and the growth trends, both local and global, are encouraging. The RGDA is strongly committed to stimulating investment in industry and to developing local gaming entrepreneurship, and in the coming years we expect significant growth in the area of ​​independent developers and, therefore, in many more promising products developed in Romania. In this regard, the RGDA has in recent years developed a constant and transparent dialogue with the central authorities to present the opportunities and challenges of the Romanian industry. Sustainable development and truly significant growth can be achieved with state support, as is the case in other countries where the sector is well developed," said Catalin Butnariu, president of the RGDA.
In 2017, the industry became known to develop or co-develop internationally recognized titles such as FIFA (Electronic Arts), Asphalt Street Storm (Gameloft), Assassin's Creed Origins (Ubisoft), Tom Clancy's Ghost Recon Wildlands (Ubisoft) Need for Speed ​​(Electronic Arts) and Iron Blade (Gameloft), but also through games developed by independent Romanian studios such as Brawlout (Angry Mob Games), Door Kickers: Action Squad (KillHouse Games), Gray Dawn (Interactive Stone), LigaUltras ScoreRivals (Green Horse Games), Tap Busters (Metagame), The Adventures of Elena Temple (GrimTalin) or Euro Truck Driver (Ovilex).
The study was conducted on the occasion of the third edition of the DEV.PLAY conference, an event organized by RGDA on October 4-5, at Grand Cinema & More in Baneasa Shopping City, where numerous panels with international speakers will take place and game development specialists, a recruitment center that will list available posts from the largest gaming development studios in Romania, a digital art contest and many other activities.