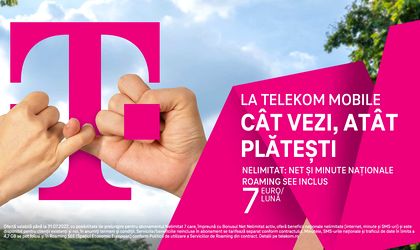 Summer has come and customers of the new "UNLIMITED" subscriptions from Telekom Mobile can make plans to enjoy unlimited communication and freedom on vacation, without worrying about roaming when traveling. The new tariff plans provide access to roaming services in the European Economic Space (EES) from the outset, without the need for any special request or activation.
If you have one of the new UNLIMITED subscriptions, available starting from 7 euro / month, you are free to talk unlimited roaming and send unlimited SMS, without paying anything extra, and you also have internet traffic included, which varies between 4, 7 GB and 12 GB, depending on the chosen tariff plan, at no additional cost for the roaming service.
So with your subscription in the country, you can enjoy freedom of communication both in the country and abroad, whenever you travel to the EEA, without worrying about costs and without unpleasant surprises on the bill.
These benefits are only applicable in the countries of the European Economic Area (EEA), according to the policy for the use of roaming services in the contract.
Moreover, if you want to enjoy summer and holidays with a new phone, Telekom Mobile has prepared the HOTTEST offers with unlimited national benefits (minutes, SMS, internet, all unlimited), SEE roaming access included, but also top smartphones, either included (Samsung Galaxy A22 5G included in the Unlimited 14 subscription, at 14 euros / month, or Samsung Galaxy A33 5G included in the Unlimited 18 tariff plan, at 18 euros / month), or available in installments at prices special together with the new subscriptions.
And if you want to always have WiFi connectivity with you, in your travels around the country, Telekom offers you the Unlimited WiFi portable WiFi solution, without extra wires and without installation works, at only 7 euro / month. The best solution for trips to the mountains or the sea, for the holiday home in the country, for camping or for seasonal businesses HoReCa, Unlimited WiFi offers the necessary connectivity for any tablet, laptop, smart TV or smartphone, by simply connecting to the mains of a WiFi router.
And for extra summer entertainment, if you want to see all the content on your mobile on the screen of a regular TV, turning it into a smart TV, Telekom Mobile offers Google Chromecast 3 included for any UNLIMITED subscription from 9 euros / month . You can use it at home or you can take it with you on vacation, at the hotel or pension, and you can see on TV everything you see and on your phone.
All the offers mentioned above whether it is the new UNLIMITED mobile tariff plans or the Unlimited WiFi service, are available both for existing customers who are extending their contract and for new customers, be they individual or business customers.
At the same time, Telekom Mobile rewards loyal customers with an exclusive dedicated offer, with the help of which they can "unlimited" all their loved ones in the family. If they want to buy another UNLIMITED subscription for sister, brother, wife, husband, mother or father, individual customers enjoy the Loyalty Offer, which brings them extra benefits when purchasing an additional subscription from the new UNLIMITED portfolio: 1 euro discount for each new subscription, or the best porting offer if I choose an offer with smartphone included, which I benefit from even if I don't have a number.