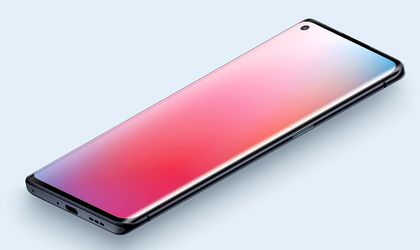 Vodafone and OPPO announced  a partnership to bring a broad range of OPPO products to Vodafone's European markets. The first countries to offer OPPO smartphones are Romania, Germany, United Kingdom, Spain, Portugal, Romania, Netherlands and Turkey.
Vodafone Romania started the pre-orders for OPPO Reno 3 PRO 5G. Customers who register a pre-order between May 22 and June 5 will receive a set of wireless headphones (OPPO Enco W31) as a gift.
OPPO Reno 3 Pro 5G brings together, in a slim case of only 7.7 mm, a very elegant design and top performance. The device is equipped with a Qualcomm Snapdragon 765 processor, a 4025 mAh battery with VOOC 4.0 fast charge technology. The battery is charged quickly, from 2 percent to 50 percent in just 20 minutes and from 0  to 100 percent in just 56 minutes. The new OPPO Reno3 Pro 5G has 12GB of RAM and a storage capacity of up to 256GB.
Customers can register a pre-order for OPPO Reno 3 PRO 5G on www.vodafone.ro until June 5. OPPO Reno 3 PRO 5G is available with a recommended package with 70 euros pledge with the Red Infinity 25 subscription and a 25 euros instalment.
OPPO is a leading global smart device brand. Since the launch of its first mobile phone – "Smiley Face" – in 2008, OPPO has been in relentless pursuit of the perfect synergy of aesthetic satisfaction and innovative technology. Today, OPPO provides a wide range of smart devices spearheaded by the Find X and Reno series. Beyond devices, OPPO provides its users with the ColorOS operating system and internet services like OPPO Cloud and OPPO+. OPPO operates in more than 40 countries and regions, with 6 Research Institutes and 4 R&D Centers worldwide, as well as an International Design Center in London. More than 40,000 of OPPO's employees are dedicated to creating a better life for customers around the world.
Vodafone Romania is a subsidiary of Vodafone Group. Vodafone Group has mobile operations in 22 countries, partners with mobile networks in 42 more, and fixed broadband operations in 17 markets. As of 31 March 2020, Vodafone Group had 362 million customers, including 115 million mobile customers, 25 million broadband customers and 22 million TV customers in Europe and 168 million mobile customers in Africa.