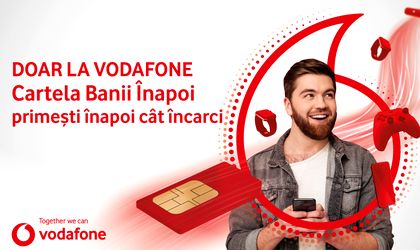 Vodafone is launching today "Cartela Banii Înapoi", a new prepaid product unique in Romania through which every time the Vodafone Card is recharged with a minimum credit of 6 euros, the user receives back the recharged value in the My Vodafone application. The cashback is doubled if the user recharges from My Vodafone app.
The money thus accumulated can be managed in the My Vodafone application, where the customers can issue vouchers they can later use for purchases in the Cartela Shop. Customers can choose from a wide range of products available on the Cartela Shop, from phones, gadgets, electronics, small appliances, connected home devices, robot vacuums, and electric scooters, to TVs, smart watches, and promotional items, through which Vodafone makes the life easy to its customers, at home and at the office.
"We want Vodafone prepaid card users to enjoy the quality of our GigaNetwork 5G network as much as possible by providing them with a new product on the market. Cartela Banii Înapoi brings the clients a guaranteed benefit on every top-up, returning the money to their My Vodafone account in the form of vouchers and thus giving them the opportunity to purchase phones and gadgets of their choice from Cartela Shop", said Nedim Baytorun, Consumer Business Unit Director, Vodafone Romania.
Upon accumulating a minimum of ten euros, the customer can request the issuance of the voucher in the My Vodafone application. The vouchers have a predefined value of 10, 20, 30, 40 or 50 euros. Depending on the number of top-ups and accumulated value, customers can issue multiple vouchers.
Vouchers cannot be combined and are valid for 30 days from issuance and can be used exclusively online in the Cartela Shop for the purchase of gadgets and promotional items, within the limit of available stock.