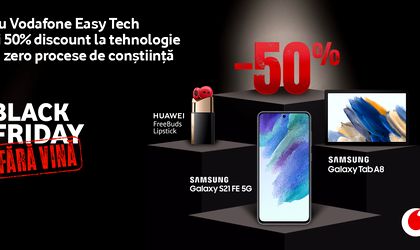 Vodafone Romania starts Black Friday with 50% discounts for technology, gadgets and smartphones and also for fixed and mobile services subscriptions. The offers are available starting today, November 10th, until Sunday, November 13th, on the mobile store www.vodafone.ro, and until November 14th respectively in own and partners physical stores.
Home connected devices, audio, electric scooters, smartwatches and smartphones will be available with the RED 15 mobile services subscription, with all the benefits included and a two-year contract period, in special Black Friday packages reduced by 50%.
In the smartphones ranges, the stars of this Vodafone Black Friday edition are Samsung Galaxy S21 Fan Edition 128GB 5G and the Xiaomi 12 256GB DS 5G, available for portability together with a two year RED Infinity 23 mobile services subscription, reduced by 50%, with all benefits included.
Offers for fixed services
On Black Friday, Vodafone offers attractive discounts on gadgets bundled with half-priced television and internet packages. Samsung Galaxy Tab A8 tablet will thus be available together with the TV and internet package with 166 TV channels, Sport included and Net Maxim (up to 940 Mbps download speed, depending on available technology) at 11.5 euro/ month for a two-year contract.
The same package is available with the Xiaomi Redmi Note 10 smartphone reduced by 50%, to 10.5 euro/ month. Customers looking for a TV can opt for SMART TV LG with the same television and internet package at the price of 25.8 euro/ month, reduced from 32.2 euro.
The complete offer for end-users can be accessed on www.vodafone.ro, in physical stores and in partner stores.
Tech Friday for companies, with a 50% discount
Technology is becoming even more affordable for businesses with new Black Friday deals available starting November 10th. These include discounts on technology solutions, gadgets, smartphones and laptops. Corporate customers will be able to purchase with a 50% discount Secure Sign, Mobile Cybersecurity Solutions, Smart Protect, Soft POS packages (smartphone card payment solution) together with Samsung Galaxy smartphone S22 128GB DS 5G or laptop and Microsoft 365 license bundles.
In addition to business digitization solutions, new corporate customers will also be able to purchase gadgets and connected products such as electric scooters, robot vacuum cleaners and air purifiers, with various RED Infinity tariff plans and a 35GB bonus.
The full offer addressed to corporate customers is available at https://www.vodafone.ro/business/black-friday and through Vodafone Business sales representatives.