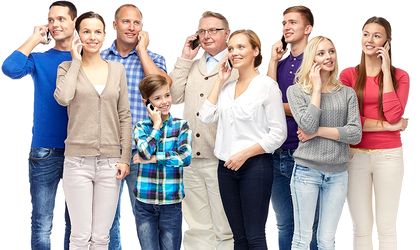 Britain's exit from the European Union has eliminated the possibility for Romanians living in the Kingdom to benefit from affordable rates when they want to communicate with their friends and relatives in Romania.
By Romanita Oprea
From July 1, 2021, however, the families of the 730,000 Romanians who have received the right to work and reside in the UK can still keep in touch with them, via mobile phones, at the same rates as before. This is possible with the help of the "Romania Mini" PrePay card, launched by Lycamobile Romania, the international virtual mobile operator (MVNO). The card can be ordered online, costs 5 Euros and brings the best benefits on the Romanian PrePay market.
It offers unlimited internet, activated by GIGABONUS text at 3535, unlimited minutes and text messages to all national networks, 1000 international minutes in 22 countries, including USA, Canada (landline/mobile phone). These 1000 minutes are also valid for calls between Lycamobile networks in Romania and the United Kingdom.
"As of July 1, we have chosen to keep international rates in order to support our compatriots settled in the UK. Lycamobile Romania will continue to offer the most competitive national and international offers in the PrePay telecommunications market. Available in Romania and the United Kingdom, the benefit is bidirectional, both for those established in the United Kingdom and for their families in Romania. In the second part of 2021, we want to offer our customers the benefits that suit everyone at a high quality and a fair price, without a contractual period", said Mihai-Alexandru Nica, Country Manager Lycamobile Romania.
Lycamobile facilitates the communication for over 15 million people in 23 countries, through advantageous voice and data packages.
Lycamobile's mission is to connect friends and families around the world through the most convenient PrePay offers on the market. Lycamobile SIM cards and PrePay packages can be ordered online on lycamobile. ro.