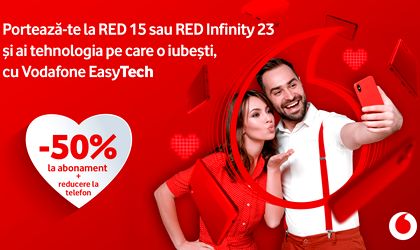 On Valentine's Day, Vodafone reconfirms its promise to offer Romanians state-of-the-art technology, easy to buy, easy to pay for and easy to use through EasyTech. Customers who port to the Vodafone network have a 50% discount on RED 15 or RED Infinity 23 subscriptions during the entire contractual period and great prices on Samsung, Apple, Xiaomi, or Huawei smartphones to bring the technology they like to those they love.
The offer is valid until February 17th c.y. and can be accessed both on the Vodafone Romania website and inside Vodafone or partner stores. The RED 15 subscription (reduced to EUR 7.5) offers users UNLIMITED 5G internet, national minutes, and SMS, 600 international minutes, roaming included and 12.61 GB roaming data traffic in the EEA. The RED Infinity 23 subscription (reduced to EUR 11.5) comes with UNLIMITED 5G internet, national minutes, and SMS, 1000 international minutes, roaming included and 19.33 GB data roaming in the EEA, along with free OneNumber service (IoT).
Also, with Vodafone EasyTech customers have attractive offers when purchasing a smartphone in combination with other devices – from small electronics and appliances to gadgets and IoT solutions. Thus, customers will be able to test and purchase directly from the stores TVs, audio products, tablets, smart watches and connected devices for home use, but also electric scooters, air purifiers, robot vacuum cleaners, Wi-Fi Mesh systems, accessories – all these being available in a wide range of service packages. At the same time, customers benefit from advice from Vodafone experts on choosing the most appropriate device or service pack, as well as technical advice in the field of cyber security and device service, available directly in store.
More information about the Vodafone offer can be found here: https://www.vodafone.ro/telefoane