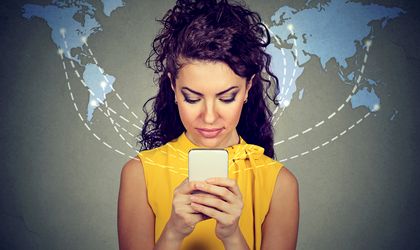 As a leading telecom company, we get a lot of questions like, is international text messaging free? Many people believe it costs a lot, while others think it is highly affordable, just like local texting.
To clarify this confusion of a vast majority, it is important to understand what constitutes the term 'international' text.
It means sending a text message from one country to another. For instance, if you are Brit and send a text to someone in Australia, it would be an international text. The same goes for someone texting from Thailand to their loved ones in Germany.
However, what would be the status of messages sent between Wales and Scotland, Italy, and Vatican City?
Is texting internationally free?
There's no conclusive answer to this question; it all depends on the telecom service provider and the plans they offer.
Most of the times, sending international texts is not free, and you have to incur certain charges. Although the costs incurred on sending an overseas text are quite less compared to an international phone call, you still have to pay for them.
The good thing is that the sender only incurs these charges and the receiver doesn't have to worry about anything. Typically, sending an international text costs you anything between $0.25 and $0.50. These fees can fluctuate based on the package plan, your telecom partner, and the location to which you are sending a text.
If you don't want to pay any fees, start using a messaging app like Facebook Messenger, WhatsApp, Telegram, or Instagram. Although you aren't charged anything while chatting on these apps, they require an internet connection to work.
That's not all; these internet apps also allow you to make free international calls. All you require is a Wi-Fi connection or cellular data.
Types of International Messages
Based on costs, there are three types of international messages which are:
Free International Texts
Low-Cost International Texts
Premium International Texts
Which type are you using? If you are a regular text message sender to other countries, are you really taking advantage of free ones? Let's dig in a bit deeper.
For instance, if you've sent an SMS from the US to any other country, chances are that you are benefitting from free international texts. Free international texts come with the cell phone plan, meaning you pay nothing extra to text someone abroad.
The second category of low-cost international texts doesn't cost you much, and you have to pay just a few cents or pennies. This type of facility usually comes with prepaid plans. The prepaid users can send low-cost texts to around 190 countries.
The third type, premium international texting services, or the most expensive of the lot, enables you to send texts to any country around the globe. But, for this facility, the telecom service providers charge you a monthly fee for this facility.
Most popular international texting apps
While browsing the Google Play Store or Apple's App Store, you'll find a plethora of international texting apps through which you can receive and send messages to anyone in any country. You can also call your loved ones through most of these apps and explore many exciting in-app features.
The most popular international texting apps are WhatsApp, Facebook Messenger, and Telegram.
WhatsApp
Currently, it is the most famous texting app. With WhatsApp on your phone, you can text and send multimedia files to anyone in more than 190 countries. The best thing is, whether you are sending texts, images, videos, or other files, you pay nothing. It's an easy-to-use app and can be used on most operating systems.
Facebook Messenger
Known as one of the pioneers in text messaging, Facebook Messenger is another famous app for sending text messages and multimedia. You can stay connected with your friends, family, colleagues anywhere in the world without paying anything.
Used by billions of people worldwide, Messenger is available for Android, iOS, and Google Smartphones. You can also use it on the web for free.
Telegram
Another app that's quite popular for its features like data encryption, group chats, file sharing, and voice/calls. You can access Telegram in more than 190 countries, and just like WhatsApp and Messenger, it is also used by billions every day to stay connected.
A vast majority likes Telegram's dedicated chat groups, and it is one of the many reasons why it has become one of the leading messaging apps.
What do you need to know before sending international message?
Before sending an international message, it is essential to know that different countries have different regulations. Before you send a text overseas, we suggest you go through their policies regarding applicable laws and practices.
Irrespective of which country you are sending an SMS to, here are some helpful tips.
Get an opt-in consent from your contacts before you send them a message.
Never send a text on DNC or do not disturb list.
Make sure you know the differences between the time zones of your country and other countries where you want to send a text. We recommend sending texts within the local business hours; 8 am to 5 pm on Monday till Friday.
Use the language translation option to ease it for the recipient. For instance, messages in English and the regional language of the country or what the recipient understands is fruitful. It will be convenient for both the sender and the receiver.
Not to forget that some countries filter messages for inappropriate content. So, to ensure that your message gets across and to the recipient in its original form, check the local regulations of that specific country.
Countries that filter messages based on the content include:
China
The telecom regulations are quite strict here. They block messages that contain financial, adult, political, or illegal content. Moreover, if they observe that the message includes keywords related to healthcare, cosmetic surgery, and beauty, the authorities block them.
Mexico
The country strictly filters telecom communication traffic. Thus, while sending texts, ensure not to include sensitive personal data, brand names, URLs, etc.
France and India
Both countries have strict policies regarding marketing and promotional messages. They queue such texts for later delivery if sent between 10 pm-8 am in France and 9 pm-9 am in India. Moreover, these messages are not cleared if sent on Sundays, public holidays, or late at night.
USA, Japan, and KSA
These three top the list of those countries where messages containing content related to drugs and gambling are considered objectionable. So, these texts are blocked. While sending texts to these countries, make sure not to use such words.
How to send international text?
If you aren't aware of how to send international text to a phone by using your carrier, we'll help you. Before you do that, remember that the cost of texting abroad varies from one carrier to another, and you will be charged more than local or domestic texts.
The process of sending a text to a foreign country is simple, just like making a voice call. Got to create message, and once you've typed your message, type the country's exit code before you type the recipient's cell number and tap on Send button.
This old-school or basic communication method between two individuals of different countries has some flaws. For instance, people sending a text from the UK to Europe or vice-versa have complained about their text messages not reaching the desired person.
The biggest reason for messages not going through is the incompatibility of two data carriers (sender and receiver). Another fact that the US uses CDMA technology and the rest of the world is on GSM answers this question. Also, if your message isn't delivered, contact your service provider to inquire about it.
If you are facing continuous problems with international messages not getting delivered, you can use Wi-Fi-powered apps like WhatsApp and Messenger, which we've mentioned above. It will also save you money.
Conclusion
It is a fact that not everyone loves using Wi-Fi or cellular data-backed apps for chats. So, the need to send text messages directly to the phone of whoever you want to convey something still remains intact.
Also, for those who think that the future of text messaging is bleak, the reality is totally different. People still consider SMS messages on the phone as an engaging, direct, and fun way of communicating.
With the advancement in telecom, now they've become cheap and offer a quick way to connect to your loved ones or anyone, even if they are thousands of miles away.
Photo: Dreamstime.com