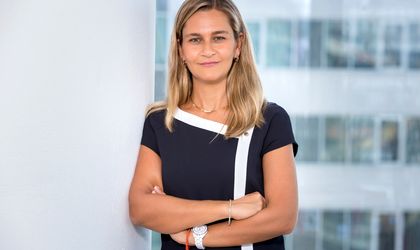 The last couple of months showed a very dynamic economic, social and geopolitical landscape worldwide, driven by the pandemic and its long-lasting effects. This increasingly volatile context, that we are all facing, translated into higher risks and unpredictability for both people and organisations. At the same time, looking at where we are today, I am amazed and grateful to see the effective mobilisation efforts in Romania, and  I am also proud of the interventions we made, as part of our commitment to support the Government and the Romanian society altogether. We moved overnight in working from home to protect our employees' health and safety and we adjusted our offers and services to the urgent needs from our consumer and business customers with more digital interactions and entertainment. We consolidated our network to ensure increased capacity and offered support to the authorities by connecting campaign hospitals, medical staff and delivering relevant digital solutions in response to the new societal needs.
By Murielle Lorilloux, CEO Vodafone Romania
However, in front of adversity, the divides have increased, leaving the vulnerable further behind. At Vodafone, we envision a world where no one is left behind and we strive to connect for a better future for all. We believe in working together with societies to reduce digital gaps and increasing connectivity and digitalization, and that's exactly what we did at Vodafone Romania.
School in a Box: Connecting students and teachers
One of our initiatives to support society is School in a Box. Led by the Vodafone Romania Foundation, this is a project that helps to deliver digital education in Romania through an innovative, comprehensive approach. As schools were closed and education moved more and more into the digital space, learning became an increasing and often unbeatable challenge for many students who lacked the resources to access digital education – devices, digital skills and knowledge, even connectivity. This was particularly the case for students living in rural or remote areas.
School in a Box was initially launched in 2018 to support digital education and help close the gap between urban and rural communities. It enables free access to an IT box – containing tablets, laptops and equipment for internet connection – and to digital educational content, integrated in a modern eLearning platform. The platform comprises numerous educational resources in-line with the official curricula and a special area where teachers can create their own digital lessons, as well as participate to dedicated webinars to refine their digital skills and even offer feedback about their experience. This means the School in a Box eLearning tool is continuously improved and tailored to users' needs.
At the beginning of the COVID-19 pandemic, we quickly extended the project to support 35 more schools in rural areas in just a couple of months. As the need for digital education had increased tremendously in Romania, we called for citizens' support. Through the Together we leave no kid behind campaign all telecom users, including our employees, donated to help extend this project by acquiring more tablets for students and enriching the digital content on the eLearning platform. Vodafone Romania Foundation doubled all donations made and Vodafone Romania offered free connectivity.
Now, the School in a box program is already active in 50 rural schools, thus enabling around 17,000 students and hundreds of teachers to not only continue their educational activity, but actually do it in an interactive and efficient way, while getting ready for the future jobs market.
Building our Digital Recovery
There are, surely, by now many takeaways from this crisis. One of the first things I believe, this pandemic has brought to light are our vulnerabilities. It has also highlighted the fundamental importance of having robust telecom networks and digital solutions. But, most of all, it showed us how powerful it can be to join hands and work together – people, organizations, governments.
At Vodafone, we envision a more connected future for everyone. Together with governments, we can help build a more resilient society and we will continue to assist the Romanian Government in adopting new technologies, offering innovative, 'future proof' eEducation and eHealth solutions.
Technology should not come at a cost to, but to the benefit of people. We are aware that individuals and businesses need guidance and support on their transition to a technology-enabled life. Therefore, we will take care to ensure digital access for the most vulnerable and help them build digital skills. We will also support our business customers, especially SMEs, by offering dedicated solutions and our expertise, on their way towards increased digital adoption to cope with the times. We are also determined to continue building on our partnership with the Government to support a secure and sustainable economic recovery enabled by digital.
Europe.Connected
As we are going through the next stage of the crisis and uncertainty still lies ahead, much needs to be done. We need to recover, and we should take this chance to build back better. We are facing a unique opportunity to create a more technology-enabled, sustainable and thriving society, thus bridging the divides between communities and offering more chances for growth.
We also have a once in a generation chance to achieve this through the EU Recovery Funds that could deliver a more connected, digital and greener future. These plans would enable all Member States to enhance their economic growth, economic and social resilience, creating new jobs and bridging the gap towards a digital and greener society. All of this can be possible through a Europe.Connected, where national and European plans are linked across countries.
Romania, for instance, can benefit greatly from new and improved infrastructure, with highways connected at broadband speeds. Our priorities here are to extend 4G services to remote areas, rollout 5G and offer cutting – edge telecom services through green Gigabit networks. Furthermore, we are ready to deploy and develop IoT solutions for the public and private sector to reduce energy consumption, optimise and speedup their processes, support the digitalisation of education and offer telemedicine solutions to hospitals, starting with the newborn ICUs.
The European recovery plan is a significant opportunity to kickstart Romania's economy on the challenging road out of this crisis. For a nation that is still struggling with one of the lowest GDP per capita levels in Europe, the efficient use of allocated EU funds in the national recovery plan will help modernise society and accelerate our digitalisation journey towards recovery. I am confident that this will contribute to the even more dynamic growth of Romania's human capital and empower its citizens, particularly the young Next Generation that will be part of Europe's Digital Decade.
DESI 90 for 27
As COVID-19 makes Europe ever more digitally connected, the EU stands to benefit from a better digital infrastructure, supported by the right strategy. We may not have all the solutions right away, but it is important for the EU's recovery and resilience that Member States set themselves bold targets for digitalisation.
Hence, Vodafone is inviting all EU nations to focus their efforts on improving their Digital Economy and Society Index (DESI), so that EU reaches a score of 90/100 for all 27 states, achieving strong results on its green and digital transitions agenda.
It is definitely a huge challenge, but step by step and through public – private sector collaborations and partnerships, each country could make a great difference. Furthermore, governments can make a big leap in their respective improvement areas by adopting a future-proof vision when allocating the recovery funds. For example, our School in a Box programme alone has contributed so far to the 'Use of Internet Services' index and, long-term, to the 'Human Capital' index, both of them being very low-ranking areas for Romania and we plan to extend it to more beneficiaries. If such initiatives were to be leveraged, I am confident that these two indexes would improve significantly and Romania's average DESI score of 40 would grow.
When some doors close, others open. Now we are standing right in front of one that leads towards a green, digital and sustainable future for everyone, in a Europe.Connected. And we have the key to open it.