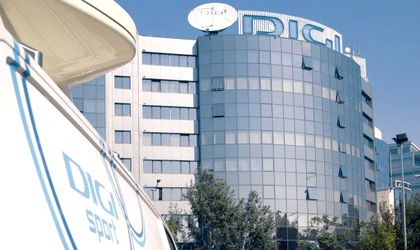 Digi Communications NV published its financial results for the first quarter of 2019, announcing a 20.8 percent revenue growth compared to the same period of 2018, to EUR 281.2 million. Adjusted EBITDA was EUR 90.7 million, a 17.1 percent growth compared to Q1 2018. However, the company also reported a net loss of EUR 17.6 million, compared to a net profit of EUR 14.8 million in the first quarter of last year. The group's total spending increased in Q1 2019 by 30.3 percent, reaching EUR 263.8 million. 
Romania continues to be a core market for the group, generating 64.4 percent of its revenues, followed by Hungary (19.6 percent), Spain (14 percent) and Italy (2 percent). On all four markets, the group recorded a growth of revenue generating units (RGU) of 1.76 million, to reach 15.2 million RGUs.
The group also posted higher results for its main services – cable television (+14.1 percent, to 4.1 million RGUs), broadband internet (+19.2 percent, to 3.3 million RGUs), and mobile telephony (+11 percent, to 4.9 million RGUs). 
In Romania, the group reported a 10.3 percent increase in cable television subscriptions (3.4 million RGUs) and an 11.3 percent growth for broadband internet subscriptions (2.6 million RGUs). As for mobile telephony services, Digi is the leader for carrier switches, with about 37.5 percent of this market, totalling 84,419 phone numbers switched over to the Digi Mobil network in the first quarter. Compared to the same period of lat year, the group's landline and mobile telephony networks attracted 26.8 percent more phone numbers that switched over (89,713 numbers).
In Romania, the Digi Group is currently the largest private employer in the local entrepreneurial environment, with about 13,000 employees.
"2019 is an important year both for the group's two main markets as well as for operations in Spain. In Romania, we will continue to expand the mobile telephony network and strengthen our position on the mobile services market. In Hungary, we will soon launch mobile services on a mature market and in a complex competitive context. Considering the growing needs of our clients and the general evolution of the electronic communications sector, we want to maintain the growth pace of the past few years.
Soon, it will be two years since Digi Communications NV listed on the Bucharest Stock Exchange. We thank our shareholders, investors and employees for this journey, which contributed to consolidating the company as an important operator on the European market. We are confident that we've set the foundation for a long-term relationship to the benefit of all parties involved – shareholders, investors, clients, employees, partners, capital market," said Serghei Bulgac, the CEO of Digi Communications Group.