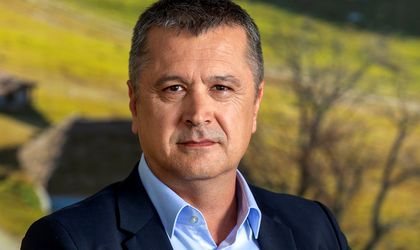 Since the beginning of the SARS-CoV-2 outbreak in Romania, once social distancing became the new normal for a limited period of time, communication infrastructure turned into the bond between people, both from a personal and a business perspective. Catalin Buliga, chief technical officer at Vodafone Romania, tells Business Review about the fact that the company's mobile network in Romania was reconfirmed as the 'Best in Test' on the local market by independent auditing firm umlaut AG and details the company's efforts to keep Romanians connected during this period.
By Anda Sebesi
In the times we are living, fixed and mobile communications have become critical infrastructures as they have been at the core of everything we do. Vodafone Romania's mission – now more than ever – is to ensure people stay connected by providing them with all the communication services they need to work and learn, to communicate with their family and friends, to have access to healthcare and emergency services. "Many businesses are relying on our services to ensure continuity. For those working remotely, it is critical that mobile and broadband connectivity supports everything they need to do. Vodafone is doing its best ensure reliable and high quality mobile communication services for Romanians" says Catalin Buliga, chief technical officer at Vodafone Romania.
Since the beginning of the pandemic crisis in Romania, Vodafone has recorded significant traffic increases that are perfectly aligned with the current situation in the country: people are working from home, education has moved online, and people constantly need to constantly feel the need to check on each other's health. Especially during such moments, the resilience of communications networks and their capacity to accommodate massively increased traffic without affecting service quality are extremely important. It is critical for mobile and broadband connectivity to support the steady rise in remote working, online learning, and entertainment.
"Vodafone Romania's ongoing investment and innovation means that our network is very well-positioned to deal with the increased demand, which has also been reconfirmed by our latest network certification as the 'Best in Test' mobile network in Romania, with the highest total score for mobile network quality and performance. Through this new certification, Vodafone Romania is reinforcing its commitment to keep Romanians connected and ensure that mobile communication services for its customers are at the highest quality in the country," says Buliga.
The recognition of the quality of Vodafone Romania's mobile services was achieved after measurements on all Romanian mobile networks conducted by independent auditor umlaut AG (the former P3 communications GmbH). This is the sixth consecutive certification for Vodafone Romania's mobile network following measurement campaigns conducted by the independent auditor.
"The need to ensure reliable and high-quality mobile communication services for Romanians has never been more important. I'm very proud of our engineers' efforts to maintain a leading position for our Mobile Network in Romania at a moment when being a trustworthy and reliable partner for the society is essential. We will continue to invest our energy and resources in our network capabilities and we are sure that, together, we will get through this situation," he adds.
The measurement campaign was conducted between February 10 and March 2, 2020, across Romania's territory, on a route randomly chosen by umlaut AG. Measurements based on drive tests covered a total distance of 8,194 km and 24 percent of the Romanian population. Measurements carried out through crowdsourcing tests covered 95.2 percent of urban areas and 49.8 percent of non-urban populated areas, while the total size of the tested area reached 113,568 km2. Following comparative measurements among all mobile networks in Romania, Vodafone Romania obtained the highest total score for the quality and performance of its mobile data and voice services.