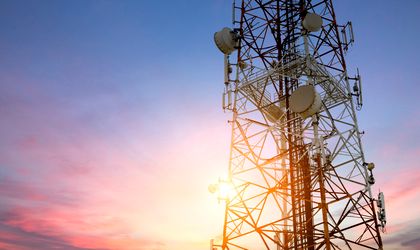 The telecommunication industry is working at full capacity in this period.
With millions working from home, phone and internet services have become more important than ever.
Romania has one of the most advanced and competitive telecommunication industries in Europe. The development of the last 20 years has given us one of the best infrastructures for mobile and fixed data, while the competition among the four big market players has kept prices at minimum levels. The number of mobile internet connections reaches 19.6 million, of which 84 percent are 3G or 4G connections, meaning high-speed data. The number of active users of mobile communications is 22.3 million, according to the National Authority for Administration and Regulation in Communications (ANCOM).
This year, the main operators of mobile communications – Vodafone, Orange, Telekom, and Digi – should focus on developing 5G technology. Unfortunately, since authorities were unable to conduct the auction for the new frequency range in 2019, the development was delayed. ANCOM announced last month that the auction would be postponed for the last quarter of this year for reasons of political instability, and now, due to the COVID-19 pandemic.
This doesn't mean that Romania is lagging far behind other countries; Vodafone, Digi Communications, and Orange launched the first 5G connections in major cities in 2019. Using the frequencies they already had, the operators managed to install 5G equipment that offered download speeds of up to 600 Mbps and peaked at 1 Gbps. But development is stalling and 5G connections are available only in a few parts of big cities like Bucharest, Cluj, Brasov or Constanta.
Keeping the economy going
The quality of the communications infrastructure was tested last month after the country entered the state of emergency. Millions of employees and students are working from home and they all rely on this infrastructure.
The volume of data through fixed and mobile connections went up by 30 to 50 percent in March compared to the previous month and there were no interruptions or other issues with the infrastructure. All operators stated that there would be no problems and that they were prepared to solve any issues that might appear. "The need to ensure reliable and high quality mobile communication services for Romanians has never been more important," said Catalin Buliga, Technology Director at Vodafone Romania. "Our commitment to contributing to the Romanian digital society has been reconfirmed by this new Best in Test certification."
Over half (55 percent) of all mobile data connections in Romania are 4G. This translates into download speeds of up to 100 Mbps or more in most regions. This means that the high-speed mobile infrastructure can cover the requirements of a fixed internet line, a very important aspect for those working or studying from remote places.
According to 2018 data, the four large telecom operators in Romania recorded a total income of EUR 3.6 billion, up 1.7 percent compared to 2017. Orange Romania ended the year with EUR 1.12 billion in revenues, Telekom Romania with EUR 933 million, Vodafone Romania with EUR 720 million, and RCS & RDS (Digi Communications) with EUR 698 million (in Romania alone).
"The value of the Romanian telecom sector increased slightly in 2018, by 1 percent, reaching RON 16 billion in revenues obtained by operators. The sector has a share of 1.7 percent in Romania's GDP," said ANCOM president Sorin Grindeanu.
Since the beginning of the pandemic, all the operators have announced that they would offer more data to their customers, to make sure that no one has any connection issues. In normal times, the average data consumption reaches 50 GB per month for every customer, but the number may rise during the state of emergency.
The telecommunications infrastructure is today part of the critical services people and companies need, just like power, natural gas, and water. And the importance of this infrastructure will only grow in the coming years.