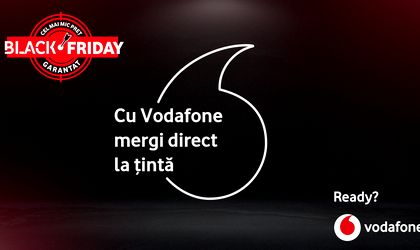 This year, with Vodafone Romania's offer for Black Friday users will go straight to the point. During November 13, Vodafone Romania offers the lowest price guaranteed for the latest smartphones, but also free LG 4K TVs for those who purchase certain fixed service packages.
Discounts will reach up to 76 pct. for smartphones purchased online
Starting with the morning of November 13, exclusively on www.vodafone.ro, customers can benefit from discounts of up to 76% for a wide range of smartphones with dedicated bundles. For example, Samsung Galaxy Fold 2 256GB 5G will have a 66% discount, Samsung Galaxy Note 20 Ultra 256GB 5G will benefit from a 72% discount, Xiaomi MI 10 T Pro 128GB DS 5G will be available with a 66% discount, Huawei P40 pro 256GB 5G will be reduced by 69%, Oppo Reno 4 Pro 256GB SS 5G by 76% and Sony Xperia 1 II 5G dual sim will be reduced by 63%.
Vodafone Romania will include in its Black Friday offer the latest smartphones launched by Apple this fall. Thus, those who opt for one of the phones in the new iPhone 12 line-up will benefit from a special offer.
Special offers for TV & internet packages
For selected television and fixed internet packages purchased online, customers will receive as a gift an LG 4K TV with a 108cm display. One of the promotional offers is represented by the TV Complet package, 500Mbps internet and an LG 4K TV for only 15 euros / month.
Among the offers available exclusively online are the fixed 500Mbps internet service that will have a 50% discount or the package consisting of the Vodafone TV service, 500Mbps internet and a free LG 4K TV for only 17 euros / month.
Black Friday will take place, in compliance with all the legal safety and prevention measures, in the physical stores of Vodafone Romania throughout the country. All these offers will also be available in the online shop.
Thus, those who opt for a visit to the store will benefit from discounts like: Samsung Galaxy A71 128GB with 39% discount, Samsung Galaxy A41 will have a 36% discount, Huawei P Smart 2021 128GB will be reduced by 52%, Huawei P40 Lite by 38%, Xiaomi Mi Note Pro will be available with a 36% discount, while Oppo A72 128GB will benefit from a 37% discount.
Regarding the fixed services offers, customers will get discounts of up to 30%. For example, the package consisting of the TV Complet package that offers 191 channels, 500Mbps internet and HBO & HBO GO included for 24 months will have the promotional price of 12.5 euro / month.
On November 13, users can follow www.vodafone.ro, but also the Facebook page (www.facebook.com/vodafonero) in order to catch the latest discounts displayed during the day.