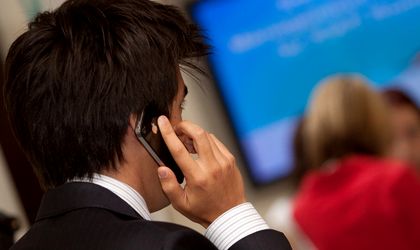 Telecom operator RCS&RDS has recently announced that it will enter the smartphone market with a range of subsidized handsets, planning to boost the use of mobile data by its customers. This move is bound to rattle the cages of other operators who have been active on this market for years.
Otilia Haraga
Last year, demand for mobile phones was again on the rise in Europe, mostly as a result of the growing popularity of smartphones. GfK figures show that 3.2 percent more mobile phones were sold in 2011 than in 2010, while sales of smartphones hiked by 67 percent. Overall, Europeans bought 258 million mobile phones last year.  What of Romania? The CEE Telco Industry Report 2011 finds that Romania is at the lower end of the ranking, even in the region. While countries such as Slovenia, Turkey and Lithuania have 27.6, 23.7 and 18.5 percent smartphone usage ratios respectively, Romania had only 8.4 percent adoption at the time when the survey was carried out.
But this means that the only way is up. "2011 was the year of smartphones, despite statistics showing that regular phones are still preferred by a segment of users. According to our internal evaluation, the Romanian smartphone market registered a rate of growth of 55 percent in 2011, compared to 2010," Panos Makris, chief commercial officer at Cosmote Romania, tells BR.
Uptake of the devices has spawned developers of mobile applications, contributing to a more complex and complete user experience. Meanwhile, smartphone usage has given impetus to the traffic of mobile data in operators' networks.
In the business sector, the adoption of smartphones is progressing a lot more smoothly since companies are interested in their employees staying connected. But it is among domestic users that things get interesting, say some players. "The smartphone battle is taking place in the residential sector, and the challenge is how to bring more value for money to the customer, because at the end of the day these technologies cost a great deal," Julien Ducarroz, chief commercial officer for business-to-consumer at Orange Romania, tells BR.
So far, RCS&RDS has pretty much kept out of this fight, giving its users mobile handsets in "custody", which had to be returned if customers decided to end the contract. However, recently RCS&RDS has announced it will also take the plunge on the smartphone market. "We have introduced subsidized smartphones into our range in several cities and we intend to expand this to other cities, depending on the feedback we get from clients," Valentin Popoviciu, business development manager at RCS&RDS, tells BR.
Information provided to BR shows that the range of available handsets includes the Nokia C2-01, and from Samsung the E3210, S5610, I5500, S5660, Galaxy Ace, Galaxy W, Galaxy SL, Galaxy S Plus and Galaxy SII.
"RCS&RDS will subsidize all the phones on offer. These handsets are not integrated in the custody offer, but the cheapest of them can be acquired at a total price of only RON 5, while for some of them there is the option of payment right away or in installments," says Popoviciu.
The entrance of RCS&RDS, which throws out very aggressive price-driven offers onto the market, and the company's plans to boost mobile data traffic among its customers, is bound to ramp up the pressure on existing operators who already have a tradition in promoting smartphones.
Subscribers to RCS&RDS's DigiMobil service can now acquire a smartphone by paying the full price all at once or can opt to pay in 12 installments. "We have handsets with market prices between RON 240 and RON 430, which in our shops can be bought for only RON 5. There are phones that cost RON 1,250 on the market which we offer at only RON 100. Also, handsets that have a market price of around RON 2,000, for Digi subscribers cost RON 500," outlines Popoviciu.
With the introduction of the new range of smartphones, the company will also modify some of its points of presence, in a way that will reflect RCS&RDS's new approach to voice and mobile data services. "We will be modernizing our network of payment spots and points of presence, in line with the development of mobile voice and data. We will expand the offer of subsidized smartphones depending on the demand we register. We have at our disposal, for this expansion, over 230 locations at national level," says Popoviciu.
In terms of mobile internet, since its launch, the service has brought RCS&RDS over 30 percent of the users of mobile data (used via USB modems). "Of course, our evolution on this market also depends on the spectrum we have access to. We have reached these results even though we did not have access to the 900 MHZ frequency, which is much more advantageous for operators and users, as the other competitors did. Granting our company a part of the 900 MHz spectrum as a compensation measure instituted by EC Directive 200/114 would be to the customers' advantage," argues Popoviciu.
Telecom operators are directly interested in encouraging the adoption of smartphones, as this in turn will drive the traffic of mobile data in their network to new peaks.
Cosmote, which has revenues of EUR 468.2 million and a total customer base of 6.5 million clients "significantly extended its 3G customer base by 116 percent in 2011, compared to 2010, when Cosmote Romania launched its mobile broadband range," says Makris.
The operator recently launched the Nokia Lumia 710 and 800, and prior to that, the Motorola Motoluxe. The Samsung S6102 Galaxy Y Dual SIM and Samsung Galaxy Note have also entered the company's portfolio recently.
Major rival Orange, which has a customer base of 10.2 million, posted a 63 percent hike in smartphone sales in its outlets year-on-year while mobile data traffic soared by 62 percent y-o-y, according to the financial results announced by the company for Q4, 2011.
"Between 25 and 30 percent of sales are smartphones," says Ducarroz.  "At the end of the day, the main barrier to greater smartphone adoption is the price. Today we have a range of Orange own devices. Also, we have promotions around the Orange Vancouver, the Motorola Defy and HTC . This brings the price of the full package down, because you might have a very cheap device, but pay a lot in monthly bills," says Ducarroz.