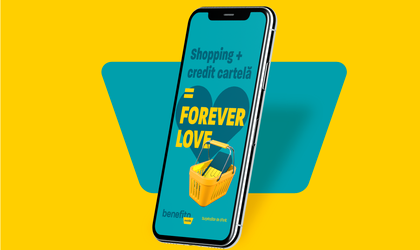 Benefito Mobile, the virtual mobile operator (MVNO), launches today the first prepaid card in Romania that customers receive bonus credit for when they do their shopping. The company's management targets approximately 300,000 users and a turnover of RON 75 million in 2025.
The Benefito Mobile card is the first product of this kind in the telecom and retail industries in Romania, and the credit received on the mobile phone is a reward for the purchases made. Specifically, people who shop from Benefito partners receive mobile credit for the money they spent.
Some of the first partners of the operator are Banca Transilvania, BCR, Benefit, Edenred, Up Romania, as well as Bonusway and MyWorld, two cashback platforms that collaborate with hundreds of retailers, including FashionDays.ro, Elefant.ro or AliExpress.
Benefito Mobile is a mechanism through which retailers can attract and retain customers, they can differentiate themselves from the competition and increase their sales
"Benefito Mobile is a unique method by which retailers can give a significant and useful reward to loyal customers, they can better understand their profile and communicate directly with them. As we expand our ecosystem, we will function as a marketing platform through which our partners can create customized special offers for Benefito Mobile customers. All this will be to the benefit of Benefito Mobile card users, who will no longer have to charge their mobile card monthly because they will receive enough bonus credit as a result of current purchases made from Benefito partners ", says Marian Velicu, Co-Founder and President of Goil Services Romania, the company that owns Benefito Mobile.
One of Benefito card's main differentiators is the charging method, as it is charged in lei, not euro. Benefito Mobile card prices start at 15 lei (15 lei credit and 30 days' validity), while the prices for recharging start at 10 lei (30 days' validity).
A minute of voice costs 0.2 lei (in Romania or EU roaming), an SMS 0.2 lei (Romania or EU roaming ), and a MB of internet 0.04 lei in Romania or EU roaming.
Customer profile and targets for 2025
Benefito Mobile is aimed at those who want a prepaid card to charge as rarely as possible and who have a medium or low consumption of mobile telephony.
Among the founders of Benefito Mobile are Marian Velicu and Marius Ionescu, two of the most experienced specialists in the Romanian telecommunications market. They estimate that Benefito Mobile will have a market share of 2-3% (approx. 300,000 customers) and a turnover of over 75 million lei in four years.
Benefito Mobile, a brand owned by Goil Services Romania S.A., is the first mobile operator in Romania to launch a prepaid card for the telecom and retail field. Through this card, users will be able to receive mobile phone credit when purchasing products and services from partner companies. Among the founders of Benefito Mobile are Marian Velicu and Marius Ionescu, two of the most renowned specialists in Romanian telecom.