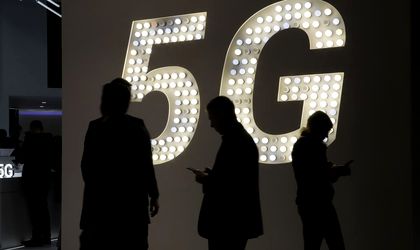 5G technology is becoming affordable to the masses as mobile phone makers are launching cheaper terminals with integrated 5G connections. While 2019's 5G smartphones were mostly flagships that had price tags of over EUR 1,000, today we're seeing mid-range phones being able to tap into 5G networks.
By Aurel Constantin
5G technology is coming to age, at least as far as devices are concerned. 5G tenders are yet to be held in many countries, including Romania, so mobile operators have not started major investments in new networks, but the consumer market is getting ready to tap into 5G speeds whenever they are ready. The COVID-19 pandemic has already forced people and companies to use their smartphones more, for both voice and data. The average increase in data traffic during lockdown was 30 percent on fixed and mobile connections.
Romania ranked seventh in the world for internet speed, a performance that has helped employees to work from home just like they would in the office. To maintain high performance, Romania will need to have a good 5G network as soon as possible. Hopefully, the 5G tender will be held soon and result in no restrictions regarding equipment manufacturers so that operators won't need to pay more for the new technology. Worldwide, smartphone sales slowed in the second quarter of the year, by 27 percent, while the forecast for the whole of 2020 is a decrease of almost 12 percent. However, China's market has shown great resilience, keeping its sales up, a result that has allowed Huawei to take the first place globally in phone shipments, overtaking Samsung and Apple. Huawei has a market share of almost 50 percent in China and even as its sales in other countries slumped, the producer still managed to hold first place. 70 percent of Huawei's sales are now coming from China, and only 30 percent from other countries; in 2019, Huawei sold about 50-60 percent of its devices in its home country.
In the second quarter, Huawei shipped 55.8 million devices, according to Canalys data, down 5 percent compared to the same quarter of 2019. Samsung shipped only 53.7 million devices, dropping by 30 percent.
After launching 5G with flagships like P40 Pro, in July 2020 Huawei announced the P40 Lite featuring all possible connections, including 5G. The device is priced at RON 1,700, qualifying in the mid-range phones segment, with good camera and processing power. The P40 Lite launch comes at good moment for Huawei in Romania, after the company managed to get a market share of almost 30 percent in May, according to GfK. The smartphone has a quadruple camera and a SoC (system on chip) Kirin 820 5G by 7 nm and comes with a 6.5-inch Full View screen.
Huawei's problem is its lack of access to Google's system and services. It is not an issue for Chinese customers, but for the US and Europe, Huawei's two other main markets, it may be. According to analysts, Huawei may lose its top spot among manufacturers in the coming quarters if western economies recover and people start buying phones again, as it is forecasted that Samsung and Apple will get a boost in sales.
New devices from top manufacturers
In early August, Samsung launched the new Galaxy Note line, keeping its high-end business phones updated. Both the Note 20 and the Note 20 Ultra come with default 5G connections. As Apple has yet to launch a 5G phone (expected sometime in the fall of 2020), Samsung managed to be the best seller of 5G phones with last year's line-up, but didn't keep up in the second quarter due to the COVID-19 pandemic.
The Korean producer launched the mid-range phone A71 5G in April, followed by the A51 5G in June. The Galaxy A series is Samsung's mid-range line and it makes up for most of the firm's sales. Introducing 5G was a natural move for Samsung as it tries to keep sales up and take back the no. 1 spot in the world. The A51 5G is the cheapest, at around RON 1,900, while the A71 5G, the top product in the Galaxy A series, has a price tag of around RON 2,400.
Total sales of 5G phones in 2020 as predicted by Gartner should reach 221 million units, which will account for 12 percent of overall mobile phone sales, a total of 1.57 billion devices globally. The Gartner forecast, published at the beginning of the year, also predicts that 5G phone sales will double in 2021.
Among top phone sellers in Europe, Xiaomi is still climbing. In Central and Eastern Europe, Xiaomi shipments in the second quarter grew by 36 percent year-on-year (YoY), so the company went to second place with a market share of 25 percent. Samsung stayed in first place (27 percent market share) and Huawei came in third (23 percent). In terms of the entire European continent, Samsung again comes out on top (30 percent market share), followed by Apple (21 percent) and Xiaomi (17 percent, after a 65 percent YoY growth).
Xiaomi has had affordable 5G phones since 2019. The Mi MIX 3, with 128GB of storage, 6GB of RAM and a 5G connection can be bought at RON 1,700, while the Xiaomi Mi 10 Lite, with the same configuration but with a later launch, can be bought for less than RON 1,700.
Motorola by Lenovo is also in the 5G affordable phones range. Moto G 5G, launched in July, is priced at RON 1,800. At the launch, Motorola officials announced that they wanted to keep offering affordable phones to everybody, so the launch of the 5G phone is in line with that statement.
In the last couple of years, Motorola has launched several low-cost phones (around EUR 200 or less) with good performance and quality cameras.
China is the best market for 5G
In the second quarter of 2020, smartphone sales in China declined by 17 percent YoY, according to Counterpoint Market Pulse. But compared to the first quarter or the year, when China was worst hit by the COVID-19 pandemic, Q2 sales went up by 9 percent, showing signs of recovery. The interesting fact is that 1 in 3 phones in China is a 5G device, thanks to manufacturers and operators' efforts to promote 5G technology. China has the highest adoption of 5G technology in the world today.
According to data, 33 percent of all phones sold in Q2 had 5G capabilities, compared to just 16 percent in the first quarter. And 5G smartphones are still priced in the mid-to-high price range, starting at USD 400, but it looks like the market is quickly moving towards lower-tier price tags. High-end 5G smartphones are predominantly from Huawei, while OPPO, Xiaomi, and Vivo cover most of the mid-range segment.