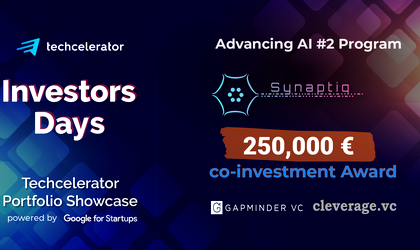 Synaptiq, a Romanian startup from Cluj-Napoca that increases the performance of healthcare services by developing AI-based solutions for delineating tumors and organs at risk, closes a €250,000 funding round with the participation of investment fund GapMinder VC through business accelerator Techcelerator, Cleverage VC and angel investors – entrepreneurs Daniel and Ioan Istrate. The startup is working on the development of Mediq platform, which reduces the analysis time of medical images in radiotherapy cancer treatment procedures.
The startup stood out in the Advancing AI SEE program developed by Techcelerator in partnership with Google for Startups dedicated to artificial intelligence-based solutions, with its high-tech product and the major need it addresses. The Synaptiq team was declared the winner of the "Investors Days" competition, an event run with notable participation from reputable local and international investment funds and investors. Previously, the Synaptiq team attended the accelerator program sessions and was assisted in the investment readiness process by Techcelerator's team of experts.
With the funding received, Synaptiq will continue the R&D work to develop the final version of the Mediq product, allocate resources to the clinical trial needed to obtain European accreditation, and invest in the commercialization of the software. In addition, these resources have made it possible to expand the Synaptiq team to ten expert members with solid experience in specialized institutes from Germany and the Netherlands.
The Mediq software uses AI to delineate cancerous tumors in CT and MRI images in a much shorter time with greater accuracy and objectivity. This means doctors will no longer have to spend hours to perform organ delineation and can focus on treatment, planning, and finding the best approach to save the patient's life. The Mediq platform uses Deep Learning to support rapid diagnosis and integrates workflow into telemedicine applications to streamline communication between healthcare professionals. As a result, clinics will be able to create a treatment plan for a much larger number of patients, as the implementation time will be much reduced.
"We are grateful to the investors for understanding our vision and supporting our journey. We appreciate not only their financial contribution but more importantly the opportunities they will facilitate through their extensive network and vast expertise. We have already established strong relationships with clinics, research centers, academic institutions, and business accelerators, which supports our growth and development of a high-quality product. We are ambitious and optimistic and we believe that early next year we will launch the beta version of Mediq software", said Dragoș Dușe, Co-Founder & COO of Synaptiq.io.
In early 2022, Synaptiq will launch the beta version of the Mediq product and is preparing to complete the European accreditation process which will make it easier to attract more customers in Romania and Europe.
Synaptiq aims to reshape the future of radiotherapy by delivering AI-based solutions at high standards to increase performance in healthcare.
Synaptiq has been nominated by Vestbee in 2021 in the "Top 10 Healthcare startups" in Central and Eastern Europe.
"Artificial Intelligence is one of the fastest-growing technologies across all industries. In healthcare, AI distinguishes itself from traditional technologies by its ability to collect data, process it, and provide the end-user with a much clearer result which makes the potential of AI in medicine enormous. This potential, along with the Synaptiq team's courage and ability to innovate, makes us trust and support them. We have experience in accelerating tech start-ups. Together with Google for Startups and with the support of GapMinder VC, Tech Angels, SeedBlink, ROTSA, and Bucharest AI, we have made 100 AI Romanian Startups. We will continue to support the interest in technology and strengthen the ecosystem of local and regional investors, mentors, alumni, and entrepreneurs working together to build the future," says Cristian Dascălu, GapMinder VC partner & Techcelerator co-founder.
Synaptiq was founded by Dragoș Dușe, Mihai Căta, Mohsin Raza, Roxana Săbău and Diana Adrițchi. The entire team is made up of engineers and business specialists with degrees and PhDs from universities in Romania and abroad, such as the University of Bucharest, Amsterdam, Munich, Bristol, and Heidelberg.