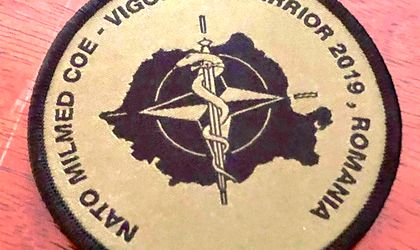 SupplyBlockchain, a company founded by Romanian entrepreneur Sebastian Cochinescu in the United States, supplied their blockchain software services for the "Vigorous Warrior 19" military medical exercise which was coordinated earlier this month in Romania by the NATO Centre of Excellence For Military Medicine and the Romanian Ministry of National Defense (MApN).
"Vigorous Warrior 19" was held at the Cincu Military Base from the 1st to the 15th of April this year and it was the largest military medical exercise in NATO history, with more than 2,500 participants from 39 countries.  The exercise included more than 1,000 scenarios, 300 medical actions, and more than 1,500 simulated casualties.
The success of the SupplyBlockchain project made it one of the world's first blockchain use cases deployed for military purposes.
"It was a great honor for us to supply the Romanian Armed Forces and the NATO Centre of Excellence For Military Medicine with our solution created for military and national security purposes, especially as we are now among the first projects worldwide in which blockchain technology is used for military applications. The success of this project is due both to the opening towards innovation of the abilitated authorities within the MApN as well as to the operative efficiency of the military personnel on the ground involved in this exercise," said Sebastian Cochinescu, CEO of SupplyBlockchain.
In December 2018, Sebastian Cochinescu received the Honor Emblem of the Romanian Army High Command by winning the Security Creativity Section award with the SupplyBlockchain project at PatriotFest, a competition coordinated by MApN, MAI, SPP, STS, SRI and New Strategy Center.
The solutions provided by SupplyBlockchain can be used for pharmaceutical products traceability, thus reducing the number of human casualties worldwide caused by the use of counterfeit drugs, for humanitarian aid transparency and for food provenance.
SupplyBlockchain was established in 2018 in the US and has a portfolio of customers in the transport, logistics and distribution industries. Since last year, the SupplyBlockchain's customers have substantially reduced their losses by using this innovative system. This year, the company will continue expanding its client portfolio in the United States.