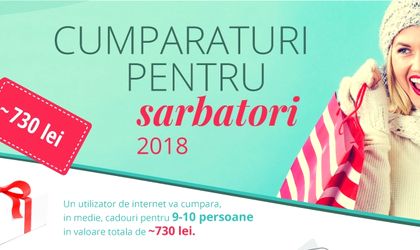 The budget for presents for this Christmas is 12 percent higher than last year, according to a study carried out by platform compari.ro among internet users. Their average budget for this year is RON 730, and Romanians are planning to buy gifts for family members, 3-4 people on average, but the total can go up to 9-10 people.
It is the fourth year when the website conducts an analysis of shopping habits during the holiday period and compared with previous years, more and more distant members of the family, friends or acquaintances have been on the holiday shopping list.
To find the perfect gift, Romanians who are active on the Internet will use 80 percent online sources. In addition, browsing magazines discounts (55 percent) and exploring store showcases (36 percent) are still popular habits. 34 percent of internet users say they will certainly ask their closest friends what gifts they want.
The Internet is not just a source of information, but also an acquisition solution: 66 percent of Romanians are planning online purchases from local stores for Christmas gifts. At the same time, classic shopping opportunities at shopping malls are still popular (68 percent), despite the crowds expected during that period.
The season is already here, on Black Friday
It's never too early to start buying Christmas presents. In mid-October, 11 percent of Internet subscribers had already begun buying, but the early acquisition of these gifts is mainly done by women.
37 percent of internet users – over 3.1 million people – will consciously wait until the Black Friday discounts in the second half of November to buy gifts, hoping to find good deals and a larger variety of products. After Black Friday, the purchase period for all gifts can be spread, for the vast majority (80 percent), even until the last days before Christmas.
Proper planning and timing can be important for those who want to order gifts from abroad as well. 9 percent of internet users are considering buying Christmas gifts from other countries, calculating an average cost of RON 327 for them.
Black Friday will represent the most popular discount period on the internet: of those planning to shop, 42 percent will make online purchases, and 45 percent will search for low-priced products both online and offline (shopping malls).
Most internet users will look for shopping ideas in the low-priced (48 percent) range, but 33 percent will also track price cuts for some of their favourite products. On Black Friday, around 1 in 3 people plan to shop impulsively, meaning they will place an order if they are convinced by the discounts. Some buyers will pay attention to the highest discounting product ranges, planning their purchases based on this information.
Quality is more and more important
Choosing the right Christmas gift is not a simple task. Apart from the price, the quality-price ratio and the quality of the products are increasingly taken into account. This last feature will be the most important criterion for more than a quarter of the internet users. As for the gift typology, Romanians tend to choose classic gifts.
Estimates show that this year's second gift will also contain a garment, a cosmetic product, and are followed by popularity by:
toys (43 percent);
interior decoration, DIY and household equipment (37 percent);
watches, jewelry, fashion accessories (32 percent);
smartphones, tablets and accessories (27 percent);
books, movies, music (23 percent);
shoes (21 percent);
consumer electronics (19 percent);
home appliances, household appliances (17 percent);
IT products (16 percent);
sports equipment (14 percent).
In addition to material gifts, also popular, among young people, especially, are:
digital products and subscriptions (11 percent);
gift coupons (8 percent);
as well as various gifts for fun events (trips, fun actions, tickets).
The poll was conducted at the request of Compari.ro by GKI Digital in October 2018. The assessment was conducted by online data collection, based on a sample of 1,335 respondents.