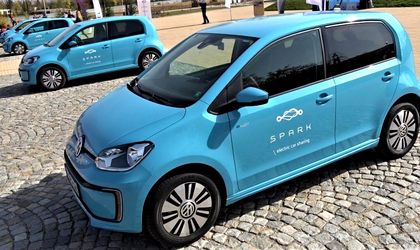 SPARK Technologies, a top European electric car-sharing company, has signed an agreement with Global Emerging Markets (GEM), a Luxembourg-based private, alternative investment group, for a 30 million euro capital commitment to be allocated towards the stock purchase guarantee for a 36-month term, when SPARK goes public.
The proceeds from this financing will be used towards the entry of new European Union cities, scaling the company's customer base and fleet size as well as further advancement of the proprietary software systems.
"The agreement with GEM has helped us to secure funding to fuel our annual growth as we aim to expand our electric car fleet and enter new markets. Having guaranteed financing once we go public has well-positioned SPARK to continue scaling its operations," said Nerijus Dagilis, CEO and Chairman of SPARK Technologies.
Currently, the company operates in 3 European markets: Lithuania, Bulgaria, and Romania, with a solid customer base of over 250,000 registered users. Despite the pandemic mobility restrictions, in 2021 SPARK Technologies has witnessed growth across key business areas. For instance, in Romania, the customer base increased 260% over the past year, whereas the number of completed trips grew by a notable 435%.
The company has also retained its market leader position. Currently, SPARK is the top mobility service in Bucharest, with a 400-fleet comprised entirely of electric vehicles. Regarding future plans for the country, the company aims to further develop its electric car-sharing infrastructure, focus on growing its customer base, and introduce new electric cars models.
"During the upcoming months, our main priorities will revolve around refining and scaling our services in-country as well as continue expanding our user base, seeking to attract more eco-conscious consumers," says Dimitar Stoyanov, country manager of Romania at Spark Car Sharing SRL, also noting the impact this may have on the capital's long-standing pollution problem. "The increased shift to electric cars may help alleviate the difficult conditions regarding air quality, especially in Bucharest, as SPARK enables its residents to move around the city without exacerbating the issue further."
Following the agreement with GEM, the company aims to become one of the leading green mobility solutions providers in Europe.
"An increasing number of consumers have shifted their focus to eco-conscious solutions in all areas of life, including how they get around; electric cars provide the convenience and affordability to do so in a way that contributes to building cleaner and sustainable future cities," concluded Dagilis.