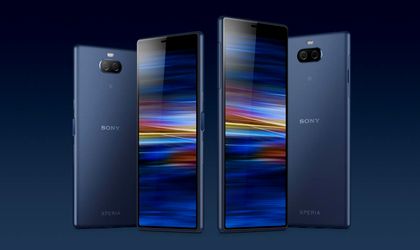 Sony announced the release of the Xperia 10 and Xperia 10 Plus models – introducing the 21: 9 mid-range experience. Borderless design, dual-camera with Bokeh function and Sony High-Resolution Audio are the features that should ensure success for themed-range phones.
"Our super mid range range introduces top Sony innovations in the most accessible way," said Mitsuya Kishida, president of Sony Mobile Communications. "Our new 21: 9 wide display offers edge-to-edge entertainment in a slim and stylish, easy-to-use design."
Full HD Wide display with 21: 9 aspect ratio
The Xperia 10 and 10 Plus models feature an elegant, borderless design and feature a full HD Wide display with a 21: 9 aspect ratio, making them ideal for both entertaining and efficient work. The multi-window intuitive interface with a 21: 9 aspect ratio plus the 6.0 inch Xperia 10 and 6.5 inch Xperia 10 Plus display allow for simultaneous viewing of two applications while maintaining comfortable size viewing for both windows. For example, you can watch your favorite clips while you're sending messages without having to open when an app is on the other. Launching two simultaneous applications has never been easier!
On the main screen, hold down the icon of the application you want to open in parallel with another application, or open Side sense, the new application available in the super mid-range range, which allows you to select both applications you want to open in the display 21: 9 aspect ratio in multi-window system.
Designed to fit perfectly into the palm due to their thinness, the Xperia 10 and Xperia 10 Plus are easy to hold and use. Both models are protected with Corning Gorilla 5 glass, which ensures their durability and durability. The superb metal finishing complements the stylish look.
Discover your creativity with the Bokeh dual-effect camera
The video recording of Xperia 10 and Xperia 10 Plus in 4K format with a 21: 9 aspect ratio allows you to create clips of the same aspect ratio that movie makers use. With the multi-aspect ratio, you can choose the ideal size – for example, you can choose 21: 9 to fill the screen, or for 1: 1, for the perfect post on Instagram.
Dual camera with both Xperia 10 (13MP + 5MP) and Xperia 10 Plus (12MP + 8MP) lets you capture great-quality Bokeh-like images so that the subject of the photo stands out on a background faded. The 2X Optical Zoom available exclusively on Xperia 10 Plus brings you closer to action.
The front and front cameras on both models feature SteadyShot to capture crisp images even on the move, allowing you to be even more creative.
Enjoy music as created by artists with High-Resolution Audio
Xperia 10 and Xperia 10 Plus include Sony's high-resolution Audio advanced audio technology, which is implicitly provided with LDAC technology. You can listen to music in the purest and most authentic form, even in the case of wireless playback.
In addition, Sony's Digital Sound Enhancement Engine (DSEE HX) improves the quality of compressed audio files up to a high-quality sound quality – bringing life to your favorite tunes and subtleties of original recording and providing live-on-home entertainment.
New SBH82D open headphones for audition to another level
Along with the Xperia 10 and Xperia 10 Plus models, the new Bluetooth stereo headphones, SBH82D, also available on black, gray and blue are also launched, matching the nuances of the phones. Lightweight, compact and collapsible, the headphones have a comfortable design after the neck, and are easy to use all day. The SBH82D headphones have the same structure as the Xperia Ear Duo, which allows users to listen to their favorite music and listen to ambient sounds at the same time, thanks to the open design. The SBH82D headphones are also provided with voice support from Google and Apple as well as with the "hands-free" feature. The SBG82D headphones are available in selected markets starting May 2019.
The stylish holster has a double heel and support for both models. The Style Cover Solid, designed exclusively for Xperia 10, protects your phone from serious damage, thanks to its durability that complies with military standards in the field.
The Xperia 10 features the Qualcomm Snapdragon 630 mobile platform, designed to deliver fascinating graphics, advanced multimedia experiences, and a 2870 mAh long-lasting battery. Available in the following colors: navy, black, silver and pink. The Xperia 10 Plus features the Qualcomm Snapdragon 636 mobile platform with impressive performance, great picture quality and a lasting battery pack with a capacity of 3000 mAh. Available in the following colors: navy, black, silver and gold. Both models are powered by Android 9.0 Pie and launched on established markets on Feb. 25. Xperia 10 and Xperia 10 Plus are available with Single SIM and Dual SIM.