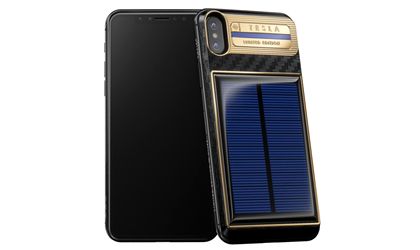 Well, no, it's not made by Apple, but by Russian accessory producer Caviar and it will be a crossover smartphone. According to AppleInsider, the phone that was first announced in November 2017 and it will include a big solar panel on the back feeds into a dedicated battery, which can provide charge to the iPhone X's battery with a press of the power button on the rear.
The smartphone will cost around USD 4,500 (284,000 rubles), according to Caviar, for the version with 64GB of storage and the 256GB model will cost USD 4,800. At first, the company said that it will make 99 units but it increased the number to 999 units.
The phone will have an attached solar panel that will increase thickness from 7.7 mm to 16.2 mm. The phone case is surrounded by a carbon fiber which is flanked on the sides by anodized buttons and has gilded decorative elements on the rear. The phone will still have IP67 resistance to water and dust.
Solar charges are not something new in the phone world, but so far the panels are not very effective. Caviar didn't specified how long it will take to charge the battery, but estimates made from what Voltaic Systems does, it should be around 5 to 6 hours for a full charge.
The first unit, intended for Elon Musk, will feature an extra engraving of the words "Made on Earth by Humans," as a homage to the Tesla launched into space by SpaceX, another Elon Musk company. Caviar explains the company was inspired by "three men of science," consisting of Nikola Tesla, Apple co-founder Steve Jobs, and Musk. The phone went on sale to days ago.