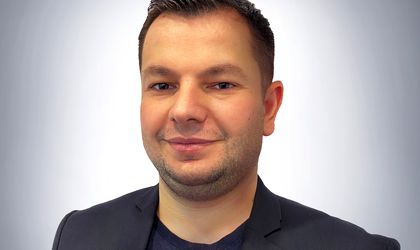 Softbinator Technologies, a Romanian company providing complete software product development services including product management, product design, software development, blockchain development, and product marketing, posts consolidated operating revenues of 38.6 million lei, a 117% increase compared to 2021 and a net profit of 5.8 million lei, a 76% appreciation compared to 2021.
The consolidated financial results for 2022 include the performances recorded by Softbinator Technologies, [es-pres-oh], WiseUp, Ixperi, and Digital Tailors.
"2022 was a year when we experienced intense activity at the level of the whole group, recording increases at the level of all companies from the point of view of revenues. The opening of the US office in the first half of last year is starting to show results. In 2022, over 51% of our customers came from USA, a market where we will continue to increase our efforts to attract even more clients. Our strategy remains focused at a consolidated level. We will continue to target the growth of all the group companies through integrated multidisciplinary teams, which have all the necessary resources to deliver more, more efficiently for all existing and potential clients. In 2023, we want to continue carrying-out M&A transactions to expand the range of services and products offered at the group level. We thank all our colleagues, collaborators, partners, and shareholders for being with us in 2022, and we are confident that this year we will be again involved in innovative projects with our clients", stated Daniel Ilinca, founder and CEO of Softbinator Technologies.
Softbinator Technologies contributed 21.5 million lei to the consolidated operating revenue, half of the amount, followed by [es-pres-oh] with 11.4 million lei, WiseUp – 4.1 million lei, Ixperi – 2.8 million lei and Digital Tailors – 1.2 million lei. The value of intra-group transactions amounted to 2.4 million lei. At the profitability level, all companies in the group ended the year with a positive net result. Digital Tailors and [es-pres-oh] were acquired in 2022. By taking over Digital Tailors, the group strengthened its service area by adding a new category – product marketing, while by taking over [es-pres-oh], Softbinator Technologies expanded regionally and strengthened its delivery capability for international clients.
Regarding the development of the group during 2022, the company opened a working point in Silicon Valley, US, a strategic move driven by the fact that the American market is the primary client generator for Softbinator. At an individual level, the total operating revenues generated by Softbinator Technologies increased by 29%, reaching 21.5 million lei in 2022 due to intensified custom software development activity. This component contributed 20.4 million lei to the net turnover corresponding to the predominant activity carried out, a 40% appreciation compared to 2021. This increase was determined by a series of factors such as attracting new clients, the company gaining nine new customers in 2022, adjusting rates for existing contracts, and selling new services with higher fees. At the profit level, in 2022, Softbinator Technologies recorded a net profit of 3.3 million lei, a 24% increase compared to 2021.
Also, in 2022, the company continued to invest in educational projects to train the next generations of programmers and developers. One such project was formalizing the company's over 10-year partnership with the Faculty of Mathematics and Informatics of the University of Bucharest by inaugurating a state-of-the-art computer lab. The partnership is a long-term one and targets the organization of didactic and non-didactic activities, shared and individual, by supporting students in acquiring advanced knowledge in the field of informatics.
Softbinator Technologies is listed on the AeRO market of the Bucharest Stock Exchange as of December 17, 2021, and trades under the symbol CODE. The company has a market capitalization of 81 million lei.