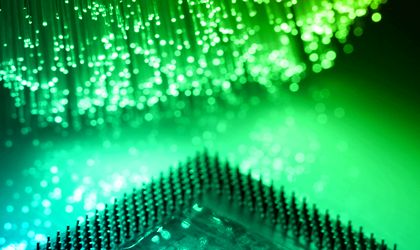 Romanian tech startup scene has been booming in the last year based on the number of ventures, new accelerators, capital raising rounds and total funding amount. We analyzed some data, the strategies and challenges behind the most important Romanian startups and we have picked seven companies based on the money they have raised, how quickly they are recruiting and looking at their teams of founders. Here are only a few of the smartest ventures that could make the headlines in 2020.
By Claudiu Vrinceanu
TypingDNA
TypingDNA has developed proprietary artificial intelligence algorithms to authenticate users based on how they type. Through a simple training process of watching user keystrokes, TypingDNA can recognize further attempts from a specific user by matching them against their known account.
Team of founders: Raul Popa, Cristian Tamas, Adrian Gheara
Year founded: 2016
The most notable recent news: The $7 million Series A funding round led by Google's AI-focused venture fund Gradient Ventures.
Why we should watch TypingDNA: The company plans to utilize freshly raised investment to offer more tools that will enable the integration of their API with existing website development platforms and expand its developer support network.
Medijobs
Medijobs is an end to end and digitalized platform focused exclusively on healthcare recruitment, where medical facilities can find, build relationships and recruit healthcare specialists. Once they get matched, companies apply and compete for relevant candidates instead of the other way around.
Team of founders: Catrinel Hagivreta, George Hagivreta
Year founded: 2015
The most notable and recent news: The company opened its first office in New York.
Why we should watch Medijobs:  The company plans to consolidate its presence on the US East Coast, explores a possible expansion to other US states this year.
FintechOS
FintechOS created a technology that lets traditional banks and insurance companies adapt to rapidly changing customer expectations and match the speed and flexibility of fintech startups with personalized products and services, in weeks rather than months or years.
Team of founders: Teodor Blidarus, Sergiu Negut
Year founded: 2016
The most notable recent news: The company raised $14 million in a Series A investment led by the Digital East Fund of Earlybird Venture Capital and OTB Ventures, with participation from existing investors Gapminder Ventures and Launchub.
Why we should watch FintechOS: The company will continue the growth and expansion across Europe, and to expand into South East Asia and the U.S.
Tokinomo
Tokinomo developed a device for the promotion of products in the store, which uses motion, sensors, sound and light to bring the products to life. The technology brings to the market the concept of Real Reality, which gives consumers the opportunity to interact with the real product.
Team of founders: Ionut Vlad, Laurentiu Cluve
Year founded: 2017
The most notable recent news: Tokinomo has raised EURO 700,000 in an investment round led by Early Game Ventures (EGV).
Why we should watch Tokinomo: The company will accelerate growth, enter in new markets and develop their technology.
Medicai
A collaborative online medical portal for MRI, CT and PET-CT imaging investigations,
Medicai enables patient-doctor collaboration, imaging investigations, online storage and sharing. The start-up strives to change the way multidisciplinary medical teams cooperate with their patients through an online platform
Team of founders: Mircea Popa
Year founded: 2019
The most notable news: The company raised a new investment worth EUR 500,000 in a financing round led by Sacha Dragic, founder of the Superbet group, through the D Moonshots investment fund.
Why we should watch Medicai: The startup will focus on the further development of doctor's support AI technology.
Druid
Druid develops chatbots technology for large companies. It develops a "no-code" platform that helps companies plan, develop and distribute chatbots – software robots. No-code platforms also allow non-programmers to create software applications, through graphical interfaces and configurations, instead of classical programming.
Team of founders: Liviu Dragan
Year founded: 2018
The most notable news: Early Game Ventures led a new round of investments that valued at over 8 million euros. Angel investors participated in the round.
Why we should watch Druid: The company intends to expand rapidly in the United States of America and it plans another investment round this year, aiming to raise EURO 8-10 million from the investors.
Feexers
Feexers is an online marketplace that connects clients with various providers of personal care and home maintenance services (electricians, installers, painters, cosmeticians).
Team of founders: Felix Tataru, Cristi Udrescu,  Eusediu Margasoiu
Year founded: 2019
The most notable news: Feexers raised an investment of EURO 500,000 from local investors such as GapMinder, Roca X and individual investors.
Why we should watch: How the company will develop a business model tested without success in Romania by other entrepreneurial ventures.