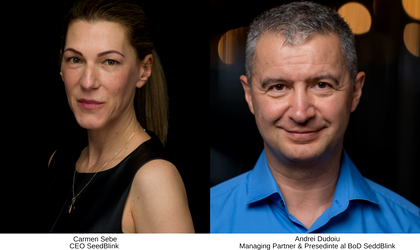 SeedBlink's community of investors backed European tech startups with €58 million over the past three years, raising a total of €150 million together with VCs and angel investors. On its third anniversary, SeedBlink is launching its Annual Report that analyzes market trends, key players and the platform's impact in Europe and Central and Eastern Europe, produced together with Horvath Consulting.
The report shows that in the first ten months of the year, the level of funding for tech startups in Romania reached €226 million, up 36% from €166.4 million in 2021, despite high inflation and macroeconomic challenges.
"Investments in Romanian tech startups are growing yearly, showing us that the ecosystem is maturing. Despite the decrease in the number of funding rounds, the 36% increase in the level of funds attracted in the first ten months of the year reflects an advance. At the same time, CEE is one of the fastest-growing regions in Europe for venture capital funding. The forecast for 2023 indicates that investment in the region will continue to grow, highlighting the region's untapped potential", says Andrei Dudoiu, Managing Partner SeedBlink.
—
"SeedBlink offers an excellent product that allows individual investors to benefit from the value created by technology startups. These startups are at the forefront of innovation and can bring new technologies, business models and approaches to market. Given our competencies, we are in a solid position to help SeedBlink and its investor community and look forward to 2023," said Constantin Pelehra, Senior Project Manager at Horváth & Partners Management Consultants.
Read the full report here for more information on the European tech startup ecosystem.
Since its launch in 2020, SeedBlink has funded 67 European tech startups, including 49 from Romania (ten this year). In August 2022, the company acquired Symbid, the world's first equity crowdfunding company, consolidating a total portfolio of 256 companies and 67,500 investors. This year's largest investment rounds on SeedBlink include Druid, Brio, Finqware from Romania and regional startups such as Alcatraz AI (Bulgaria), Brainhero (Austria), Hunch (Serbia), PD Neurotechnologies (Greece).
In 2022, SeedBlink strengthened its infrastructure and expanded its presence in Central and Eastern Europe with offices in Bulgaria, and Greece and Benelux (through the acquisition of Symbid). In Greece, SeedBlink raised €16.8 million, while in Bulgaria, the amount of investment attracted was €2.69 million.
SeedBlink's expansion came as more than €100 billion was invested in European tech startups this year for the second year, despite the recession, high inflation and falling rounds.
"Europe is undergoing an accelerating digital transformation across industries in all European countries. In this changing context, we are building a well-informed pan-European community around technology innovators. People want to know how the world will shape up in the next ten years – if possible, an hour ahead of everyone else – and to be part of this change. We see a growing interest in cross-border investment, European investors want geographic diversification and we want to create a platform to support them in this", says Carmen Sebe, CEO of SeedBlink.
The profile of SeedBlink investors and investments:
At this moment has 67.500 investors from 75 countries: 70% are from Romania & Diaspora and 30% are international; many foreign investors joined after SeedBlink obtained the EU passport;
The average investment ticket is 5.500 euros and the average portfolio value is 17.500 euros;
30% of all the active investors within the community are sophisticated investors with an average investment ticket of 6.400 Euros and 70% are retail investors with an average investment ticket of 4.700 Euros;
Half of the investors financed at least one company and up to 10% of them had financed more than 10 companies, diversifying their portfolios;
40% out of the total invested amount is formed out of investment tickets of 10.000 euros and the largest investment ticket is 100.000 euros;
The largest portfolio value is over 500.000 euros with 30 investments made through SeedBlink's platform.
The most important investment trends in Europe:
There are 31 new unicorn companies in Europe this year, with most coming from the UK, France, Sweden and Germany (over 60%);
Despite the recession, high inflation and falling number of rounds, over €100 billion was invested in 2022 for the second year in a row in European tech start-ups, but down from the previous year (-16%);
The number of larger rounds is decreasing, but they still represent +50% of total funding rounds in 2022;
The most important investment trends in CEE:
CEE is one of the fastest-growing regions in Europe in terms of venture capital funding and investments will continue to grow in 2023;
The level of funding for Pre-Seed rounds has decreased over the years, but there is a steady increase in Seed and Series A rounds;
A four-fold increase in funding volume between 2021 and 2022 in the security industry, despite a decrease in the number of rounds;
Over €3 billion in funding is expected to be raised by FinTech start-ups by the end of this year;
Investments of around €443 million are expected this year for the Food Tech industry. Food Tech is one of the few industries to see a steady increase in funding volume and rounds every year;
59% less funding is expected for the Enterprise Software industry, ending the year with significantly less funding than in 2021.