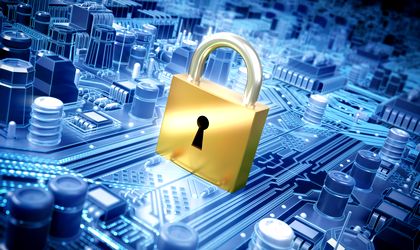 Security and risk management will have the biggest impact on IT activity in Romanian companies over the next three years, reveals the study "Connect Romania 2018", using the responses of more than 400 IT specialists, who also took part in the Connect Romania event.
More than 65 percent of IT managers said that security and risk management challenges will be the main concern for their IT departments over the next three years, followed by increased data traffic (44 percent), automation of networks and SDN – Software Defined Networking (39 percent), cloud application migration (29 percent) and Internet of Things and M2M – Machine to Machine (27 percent).
According to the study, over 46 percent of IT managers believe that the lack of awareness of security threats at top management level is the main obstacle to securing the company to cyber threats. The following obstacles identified by the study participants are lack of budget (42 percent of respondents), the lack of IT security experts in the company (32 percent) and, in a fairly high percentage, employees' refusal to comply with security rules (28 percent of respondents indicated this as one of the challenges they face in their day-to-day work). Nearly 25 percent of respondents said the lack of appropriate technologies and tools is a major impediment to providing effective protection against cyber threats that are increasingly sophisticated.
"Phenomena and technologies such as BYOD, cloud, IoT put increasing pressure on networks and IT departments in companies. Millions of new devices connect to the network and the Internet every day, and in the future these trends will grow. Moreover, one of the biggest problems faced by companies in the IT area is the lack of human resources that can help manage this complexity. Cisco responds to all these challenges with innovative solutions that help companies move the path from complexity to operational simplification. Solutions such as the Cisco DNA Center and Cisco DNA Assurance help a lot in the operational area, take the pulse of the network and suggest ways to solve problems. We also develop proprietary programmable ASICs for the Catalyst 9000 switch series, for example, but also for other Cisco products that include critical components in ensuring security and operational control, such as visibility, programability and proactivity," said Dorin Pena, general manager of Cisco Romania.
Asking about the number of smart devices (phone, laptop, tablet, other IP devices) that connect to the company's network, over 26 percent of respondents estimated they manage between 100-500 devices, 15 percent between 500-1,000 and 18.5 percent between 1,000-5,000. Almost 20 percent indicated that the number of devices is less than 100, but a significant percentage (19 percent) said that more than 5,000 smart devices are connected to the company's network.
Cyber ​​security needs will continue to be among the major IT priorities of companies over the next three years, with more than 50 percent of survey participants saying they intend to acquire network security solutions over the next 12 months or upgrade existing solutions.
30 percent of IT managers are interested in acquiring network automation and telemetry solutions, almost 28 percent of respondents mentioned switching and / or wireless technologies, and 27 percent indicated solutions for data center (storage / networking).
The low level of awareness of security threats in company management is also reflected in the budgets allocated to IT departments. Most survey participants said the company's IT budget in 2018 had grown insignificantly (over 30 percent) or remained at 2017 (37 percent). Nearly 8 percent of respondents said the IT budget fell in 2018 compared to 2017, while 24 percent said it had increased significantly.
The survey was conducted in October 2018 among over 400 IT specialists from companies and institutions in Romania, attending the Connect Romania 2018 event. Connect Romania is the largest conference dedicated to communications solutions and this year it reunited over 1,300 local IT & C specialists, networking experts and decision-makers.