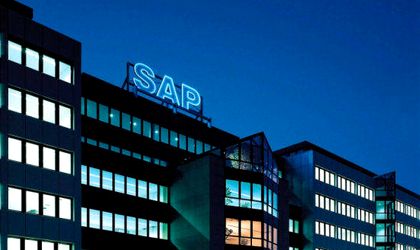 In 2018, SAP Romania expanded its customer portfolio with some of the largest companies active on the local market. This year, the most requested SAP solution in Romania was SuccessFactors, the software that helps organizations digitize their human resources department. The SAP Romania team also grew at the end of September 2018 – the total number of employees was 704, an increase of 23 percent compared to the same period last year.
SAP Romania's Data Science Specialist Division has continued to deliver numerous Machine Learning and Artificial Intelligence projects for customers around the world.
In 2018, the company's Commerce Cloud was successfully implemented in major digital companies (in Germany, UK, the Netherlands, Israel, etc.) from various industries (automotive, chemical, retail, oil), helping them digitize their online presence (B2B and B2C).
SAP's solutions are used by more than 413,000 customers from 180 countries globally; in Romania, the number of organizations that have digitized their business processes has exceeded 600. In 2018, the local customer portfolio was completed by:
Rompetrol – solution: SAP SuccessFactors
Groupama – solution: SAP SuccessFactors
Tarom – solution: SAP S/4HANA
More employees
SAP Romania has increased its number of employees in 2018, reaching 704 specialists. Of these, 466 were in Bucharest, 122 in Timisoara and 116 in Cluj-Napoca. For 2019, the company has opened another 100 technical and non-technical positions.
The Data Science team in Bucharest, one of the three SAP divisions globally, is in full recruitment and has 10 positions available for the next period. The first specialists will join the team in December 2018, and the process will continue in 2019. These positions include young people with exceptional results, graduates of technical, mathematical or computer science universities from both the country and abroad.
At the end of October 2018, SAP Romania organized the first edition of The BEST Run SAP Hackathon, in collaboration with Polytechnic University of Bucharest and BEST – Board of European Students in Technology. The event was attended by 36 top students from the Faculty of Automation and Computers. The winning teams have been awarded with training sessions of up to six months in four departments at SAP Romania, with the possibility of being hired indefinitely. The first-place team was also awarded a visit to the SAP Innovation Center in Potsdam, Germany, a visit that took place in early November.
Part of the global initiative *The Intelligent Enterprise*, Data Science specialists in Romania will contribute to software development and the implementation of Machine Learning and Artificial Intelligence functionality in SAP standard solutions.
Future Projects
Romanian Data Science experts are working on a multi-annual project with a Central Asian national railway company aiming at predicting the quantities of goods to be shipped the following year and optimizing freight trains in order to make efficient use of transport capacity of the railway network. Other objectives of the project are to optimize the number of wagons for each category of goods and the number of locomotives, together with their judicious distribution in the main railway nodes.
Another successful project this year was for a US oil extraction company. The objective of the project was to predict interruptions in the exploitation of oil wells caused by natural causes, such as paraffin or water accumulations.
As a result of the project's success, the client signed with SAP a second, multi-year, multi-annual contract to implement a multi-annual innovation roadmap, a program composed of over 10 artificial intelligence projects. These projects will also be developed and delivered by the Data Science team in Bucharest.
d-shop or "The Developer's Workshop" is a program implemented by SAP globally and started by SAP Romania in 2018. d-shop is a laboratory for testing the potential of Internet of Things (IoT), Machine Learning and Blockchain. SAP specialists can explore the new trends and prototypes of IoT in a fun way and generate new business-friendly ideas, using equipment (sensors, Raspberry PI kits, 3D printers) and state-of-the-art software.
d-shop is also a community of SAP specialists who use the resources of the program to gather and share knowledge. Among the prototypes developed by Romanian engineers are: HR Assistant – a virtual assistant (chatbot) that takes over the operational tasks of SAP employees. It builds on SAP Conversational AI Natural Language Processing capability, which, integrated with Alexa, the Amazon-developed system, provides SAP specialists with support for activities like expense, travel requests, flight booking, and so on Intelligent Traffic Monitoring and Management System – SAP Romania specialists test how Machine Learning technology can help improve Bucharest traffic by intelligent and evolving synchronization of traffic lights at an important intersection of the capital (Charles de Gaulle).