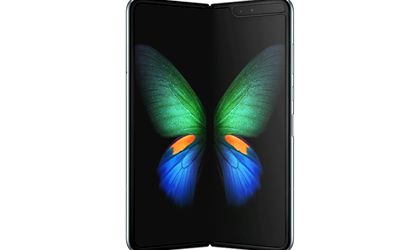 Samsung has unveiled, ahead of MWC 2019, Galaxy Fold, a new folding device that opens a new category of mobile phones. The Galaxy Fold is equipped with the world's first 7-inch Infinity Flex Display, which folds into a compact device. The device offers a new way of multitasking, watching videos, games, and more, but it also comes at s steep price, almost USD 2,000.
"Today, Samsung writes the next chapter in the history of mobile innovation, materializing everything I did not think possible in a mobile phone. Galaxy Fold introduces a new category, bringing new capabilities that I have not seen before on the Infinity Flex Display. We created the Galaxy Fold for those who want to experience what a premium portable device can do, beyond the limitations of a traditional smartphone," said DJ Koh, chairman and CEO of the IT & Mobile Communications division, Samsung Electronics.
Galaxy Fold is part of a new product category. It offers a new type of mobile experience that allows users to do things they could not do with a regular smartphone. Users now have the best part of both worlds; a compact device that opens to form the largest display on a Samsung smartphone. Galaxy Fold brings together innovations in engineering and display innovations, developed eight years after the launch of Samsung's first prototype of foldable phones in 2011.
New display materials: The internal screen does not bend. It's folding. Folding is more intuitive and a much more difficult innovation to materialize. Samsung has invented a new layer of polymers and created a display about 50 percent thinner than the regular smartphone screen. The new material makes the Galaxy Fold flexible and tough, built to withstand.
Suspension mechanism: The Galaxy Fold opens easily and naturally, like a book, and closes compactly in one movement. To do this, Samsung has designed a sophisticated hinge with several interlocks. This system is hidden, so the phone maintains its stylish design.
New design elements: From screen to case, every element you can see and touch – Samsung has integrated them perfectly throughout the structure. The fingerprint scanner is located on the side where the index finger is normally held so that the device easily unlocks. The two batteries and components are evenly distributed so Galaxy Fold feels balanced in the hands. Unique finishing colors – Space Silver, Cosmos Black, Martian Green and Astro Blue – and the Samsung logo fit perfectly into the complete structure.
A new experience
Galaxy Fold has been designed with the smartphone user profile in mind – designed to provide them with a better experience. So, you can take it out of your pocket to answer calls, messages, and open it for multitasking and for better viewing on the largest mobile screen that's useful for presentations, digital magazines, movies and AR content.
The unique UX, built specifically for Galaxy Fold, offers new ways to get the most out of your smartphone:
Multi-Active Window: Open up to three active applications at any one time, no matter what you are working on or what you are playing. Are you getting ready for an uninterrupted viewing session? Check out the latest appearances on Amazon Prime Video, search for the latest reviews and invite your friends to join the marathon by sending a simple message to the movie trailer – all on one screen.
Continuity in applications: You will have intuitive, uninterrupted transitions between the folded phone and the main screens. Whether you close or open Galaxy Fold, apps will automatically appear as they are left. Stay connected to Instagram by viewing the entire feed with one hand and quickly check your notifications. When you're ready to take a picture, edit one or take a closer look at the feed, open the phone to access the big screen.
Samsung has collaborated with Google and the Android Developer community to ensure that apps such as Facebook, WhatsApp, and YouTube can be accessed from Galaxy Fold.
Premium performance
Galaxy Fold is built for intense use, whether it's work, gaming or sharing – all this requires advanced performance. With powerful hardware, you can complete any task on Galaxy Fold.
Do More: To make sure everything works smoothly, even when three applications are open simultaneously, Samsung has equipped Galaxy Fold with a high performance AP chipset and 12GB of RAM with similar PC performance. The dual battery system has been specially designed to keep up with the multitude of tasks the phone supports. Galaxy Fold is also capable of charging on it, but also a second device, both powered by Wireless PowerShare, connected to a single charger so you can leave it on the second home.
Multimedia experience: Galaxy Fold is designed for entertainment. Thanks to immersive AMOLED screen and clear sound on AKG stereo speakers, favorite movies and games, such as Asphalt 9, are rendered in rich colors and the sound is great in quality.
The most versatile room so far: No matter how you hold or fold your phone, one of the rooms will always be ready to capture an image, so you do not miss anything important that you want to immortalize. With 6 lenses – three in the back, two in and one side – the camera system on the Galaxy Fold is characterized by flexibility. Galaxy Fold takes multitasking to another level, allowing even the use of other applications during a video call.
Do it with Galaxy Fold
Galaxy Fold is supposed to be more than a mobile device. It is a portal to an entire galaxy of connected devices and services that Samsung has developed over the years so that its users are able to do things they could not do before. Use Samsung DeX for higher productivity, offering a similar experience to your PC. Bixby is equipped with new smart features such as Bixby Routines, which anticipates your needs, and Samsung Knox will keep your data and information secure. Whether you use your phone to make purchases with Samsung Pay, or use Samsung Health to manage your health routine, the entire Galaxy ecosystem is designed to help you get to the end of what you are truly passionate about.
Galaxy Fold will be available in LTE, but also in 5G from the second quarter of 2019.