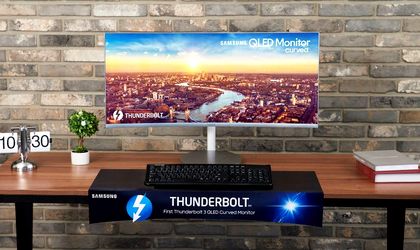 Samsung Electronics has expanded its curved screen monitor line by launching the new CJ79 (Model Name: C34J791) monitor at IFA 2018. The 34-inch CJ79 Curved Monitor is the first of its kind to support Intel Thunderbolt 3 connectivity. Designed for creative and business people looking for a comfortable, efficient, and powerful connectivity experience.
Compatible with both Mac and regular PCs, the CJ79 has two Thunderbolt 3 ports that deliver AC power, images and data at a processing speed of up to 40 Gigabytes per second (Gpbs), eight times faster than USB 3.0, and simultaneously load devices up to 85 watts (W), all with a single cable.
"Over the years, Samsung has revolutionized the viewing experience for professionals." CJ79 is the company's most recent effort to bring curved monitors to the next level, highlighting Samsung's commitment to innovation, adding Thunderbolt 3 to this vision and connects customers to infinite possibilities," said Seog-gi Kim, executive vice president of Visual Display Business at Samsung Electronics.

"The Thunderbolt 3 ecosystem continues to expand and provide innovative products with remarkable performance. It is appropriate for Samsung to present the CJ79 QLED monitor with Thunderbolt connectivity 3. The new QLED monitor delivers performance as well as a new screen type as well integrated docking capabilities, being simple and easy to use," said Jason Ziller, General Manager of Intel's Connectivity Division.
Work simultaneously on several projects
The CJ79 delivers a crisp, crisp image, while offering a seamless dual experience on a single screen. The ultra-wide curved 3440×1440 screen, with a 21:9 aspect ratio, provides all users with the workspace needed to carry out more work efficiently and comfortably. With Picture-by-Picture (PBP), professionals can display two sources, and for optimizing work on multiple projects simultaneously, Picture-in-Picture (PIP) allows users to resize the second source up to 25 percent screen and position it anywhere to get a more readable format.
The industry's clearest screen, the curved and ultra-wide 1.500R, is designed to follow the natural curve of the eye for an immersive and comfortable viewing experience. With adjustable height and tilt support, the CJ79 allows users to customize the working position that meets their most comfortable viewing parameters. In addition, the Thunderbolt 3 connectivity, a new level of ability to charge your Mac or PC, allows users to connect additional devices that support Thunderbolt 3 or USB directly to the monitor.
The Samsung CJ79 incorporates Quantum Dot technology, delivering brilliant and realistic details in a 125 percent sRGB color spectrum. The curved VA panel technology produces a 3,000:1 contrast ratio, far exceeding the conventional monitors and amplifying the details displayed on the screen through deeper blacks and brighter whites.
AMD FreeSync technology synchronizes CJ79 video card refresh rate to reduce image blur and have exceptional gameplay and uninterrupted viewing.
CJ89 – A 43-inch solid-state monitor that increases productivity
The CJ89 (Model Name: C43J890) is a 43-inch ultra-wide, curved, 3840 x 1200 screen, 32:10 aspect ratio, creating a larger and more vibrant workspace. Robust design includes a built-in KVM switch, USB C-type ports and built-in stereo speakers for better performance.
The Samsung CJ79 and CJ89 monitors are currently available in Europe, and soon will be available worldwide. CJ89 has a price-tag of EUR 670