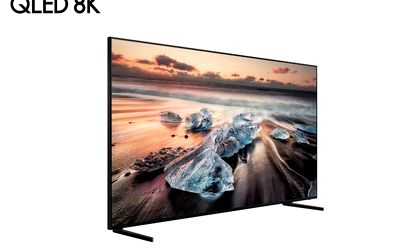 Tv sets with 4K resolution are not enough anymore. Samsung Electronics announced the release of the new Q900R QLED 8K TV, which also includes the 8K AI Upscaling function, at its IFA 2018 press conference. Available in four large sizes, 65 inch, 75 inch 82 inch and 85 inch), the Samsung QLED 8K TV will have several 8K-ready enhancements including Real 8K, Q HDR 8K, and Quantum 8K processor to display true 8K quality images. The new Samsung QLED 8K will be available in stores from the end of September.
The Samsung QLED 8K with 8K AI Upscaling is part of the company's long-term vision of bringing 8K technology to the forefront, making it the most accurate and clear on the market.
"Samsung has been working over the past few years to help boost premium image quality, and introducing QLED 8K with 8K AI Upscaling is an important step as we look at the future of the screens." We are excited to introduce the new Q900R and we are confident that they will benefit from the best viewing experience in vibrant, clear colors and unmatched sound with our new 8K models," said Jongsuk Chu, Senior Vice President of Visual Display Business at Samsung Electronics.
To get 8K quality images, the Samsung Q900R has a Real 8K resolution that has a brightness of up to 4,000 nits – a standard that most movie studios have. This feature allows the TV to produce four times more pixels than a 4K UHD TV and 16 times more pixels than a full HD TV.
QD HDR 8K, based on High Dynamic Range 10+ (HDR) technology, which optimizes TV brightness levels and produces impeccable colors and images, is also built-in to deliver images consistent with the vision of content creators.
Samsung 8K AI Upscaling technology, based on artificial intelligence, delivers image and sound quality to an 8K-compatible level, regardless of the original source quality or format.
In addition, the Q900R features the Direct Full Array Elite feature for enhanced contrast and precise backlight control as well as a 100 percent color volume, allowing users to be fascinated by a billion color shades for accurate accuracy unmatched image.
The Q900R offers new features that allow consumers to use the TV differently, while maintaining the highest picture and sound quality. For example, the TV recognizes and analyzes a number of connected entertainment devices, such as optical cable devices with One Remote Control, and can automatically switch the picture source and audio output of the TV for an optimized viewing experience.
Ambient has been enhanced to perfectly integrate the TV into the surrounding area, with images, useful information, and more.
One Invisible Connection comes with a standard length of 5 meters, incorporates the optical cable and power cord, and gives users more freedom as well as the ability to place TV in other areas.
Smart TV capabilities, such as SmartThings, add the Q900R to the ability to give users greater access to information and simplify their lives.