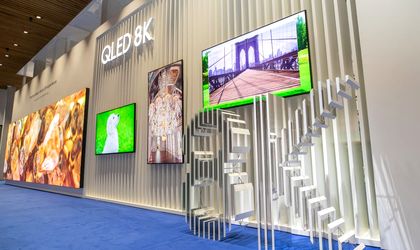 Samsung launched, at ISE 2019, the latest generation of digital display, including its first 8K QLED screen. Samsung has made significant advances in Artificial Intelligence (AI), which uses machine learning to bring inferior quality content to 8K resolution.
In addition to the fact that, thanks to artificial intelligence, the content can be displayed in 8K, the content of any resolution – from SD to 4K – can be converted to a quality as close as 8K. For commercial displays, this translates into greater accuracy, an important factor in attracting the attention of potential consumers. This means cost savings for store owners and advertisers, which can produce content at a lower resolution, hence cheaper, which will then be displayed at 8K quality.
The new Samsung 8K QLED Signage of 82 inch combines the highest resolution in the market with AI upscaling technology – generating realistic images that give users more immersive experiences. Its thin design with a depth of less than 40mm, provides a smooth installation by adopting a wide angle lens that allows the display to fit in any environment and is compatible in both portrait and landscape mode. With a resolution of 7,680 x 4,320 pixels, the pixels Individuals who make up an image become imperceptible to the human eye – even when they are viewed close by.
Similar to its 8K counterpart, the QLED 8K offers an enhanced black color view by local dimming and quantum light control. The QLED 8K screen also includes color volume, giving viewers billions of shades of color and color accuracy, displaying rich and accurate images.
In addition to the new QLED 8K Signage, participants from ISE 2019 will have the chance to experience what the future will bring in display, as Samsung will display a variety of screens designed to help companies deliver the best content for their audience.
8K Multi Box HDR: The world's first HDK 8K for LED screens
Samsung will introduce the industry's first HDR 8K technology for LED screens. This is possible thanks to Samsung Premium LED S-Box, which supports 4K LED HDR. By combining four personalized cassettes that sync perfectly, users can have 8K content with a 60Hz refresh rate.
LED HDR is the new image quality standard for the LED market, delivering unparalleled image quality, making any content of exceptional quality. LED HDR also features Invert Tone Mapping (ITM) for lightless images, Dynamic Peaking to maximize screen brightness and contrast by doubling the peak luminance. Color mapping sets a range of colors that adapt to LEDs.
Multi Box HDR 8K can also offer live content with a lower latency through an optimal live mode. This way there will not be a crowd of cables or other 100-meter HDBaseT (HDBT) cable displays. HDBT offers the global standard for high-definition video and audio transmission on a single cable.
With Multi 8K Frame Lock feature built into 8K LEDs, integrators no longer need a separate device to sync the content displayed on 8K screens. HDR LED 8K supports all Samsung SMART LED Signage products and is particularly effective on the IFJ and The Wall series.
The Wall 292 inch 8K: Higher than ever
If a size of 219 "would not have been enough, Samsung will release a 292 inch version of their 8K screen globally in the first quarter of this year. The Wall is a large, configurable and customizable modular display at a range of sizes from 73 inch to 292 inch and is ideal for luxury business or luxury residences. Samsung will expose The Wall to ISE, where visitors to the stand will have this visual experience on their own skin.
The Wall is slim (29.9 mm) and can be easily integrate into any interior design. Another unique Wall Mode feature allows the user to personalize the screen by presenting different types of content, such as photos or art, and choosing the right background to suit the surrounding design so the screen is no longer closed, while customizable decoration makes the screen one elegant and sophisticated from any angle, so it fits in any space.
To compliment stunning images from The Wall, Samsung is working with industry partners to provide the best technology experience right now and in the future. Harman JBL and Steinway Lyngdorf offer an immersive sonic solution. Crestron, Savant and Control4 ensure complete integration of home automation solutions, and Domotz, Ihiji and OrvC allow remote monitoring capabilities for channel partners.
OMN / OMN-D Series: Signage semi-outdoor
Samsung will also launch OMN / OMN-D semi-outdoor series globally this year. Designed as showcases, the OMN / OMN-D screens, both available in both 46 and 55-inch sizes, offer businesses an exciting display solution, vibrant and clear content, and excellent visibility, even in direct sunlight, and a high contrast ratio of 5,000: 1, all in a slim and stylish design. The OMN-D series is a two-screen display that allows display outside of the store as much as inside, thus increasing sales opportunities both in the store and outside the store at the same time.
Both displays offer IP5X protection against dust and three-step overheat protection for durable performance together with its own built-in solution, MagicINFO S6, manufactured by Tizen 4.0, for content management. The screens also have built-in Wi-Fi and are easy to operate with an electrical power cable and a LAN cable, drastically reducing the clutter and increasing energy efficiency. The screens are perfect for a wide range of businesses, from restaurants to shops and much more.
"We used the Samsung digital screens in our stores and we noticed a need for a thinner and brighter screen. We are grateful that Samsung has managed to meet our business needs with the OMN 46 semi-outdoor screen. The new screen was easily integrated into our stores and allowed us to easily share the messages of our partners," said a Luxotica official, the leader in sports and luxury clothing in Italy.
Luxottica will start using OMN screens with MagicINFO6 from Samsung in its stores in Europe, starting with Italy and France.
In this year's edition of ISE, Samsung will also feature the new 4K QK and QBR displays. Both include five models ranging in size from 43 inch to 75 icnh, HDR + support and smart upscaling, as well as IPX5 dust proofing, built-in KNOX security solution and Wi-Fi. The new series also has significant improvements over previous QBN and QMN screens, with smaller frames and a more symmetrical design.
The QMR series was created for 500nit malls, shops and airports. The QBR Series is perfect for small retail stores, transport stations and 350nit lighting. Both are equipped with non-dull panels.