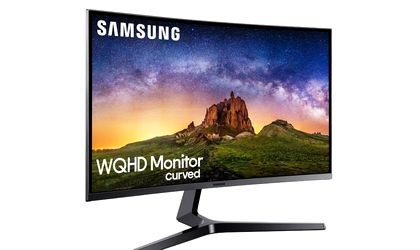 Samsung Electronics presented at Gamescom 2018 its new CJG5 curved gaming monitor. Samsung presents the advanced range of monitors, offering an ultra-wide experience area on the CHG90 monitor with the theme "Wider View. Winning Play." Running in Cologne, Germany, Gamescom is one of the world's largest gaming exhibitions that attracted over 350,000 visitors in more than 50 countries last year.
The new 32-inch (C32JG5) and 27-inch (C27JG5) CJG5 displays key gaming technologies, such as the WQHD top-of-the-line curved screen, the 144 Hz refresh rate and a high contrast ratio. Available globally in the third quarter of 2018, the Gaming Optimized CJG5 offers an immersive experience at an affordable price backed by Samsung's technological expertise.
"Because of the growing demand for gaming monitors, we've been trying to offer products at a competitive price, for more users to benefit from premium technology. Through the technological expertise we have accumulated over the years, we strive to accelerate the evolution of the gaming experience, which can be seen in the 144Hz refresh rate and WQHD resolution, which will certainly be appreciated by users," said Seog-gi Kim, executive vice president of Visual Display Business at Samsung Electronics .
The CJG5 has a WQHD (2.560 x 1.440) resolution, four times the HD, delivering sharp and vivid images with deeper blacks, brilliant white and vibrant colors as well as a high contrast ratio of 3000:1. Together with a curved VA panel and three-sided frameless design, the CJG5 builds an immersive environment that offers the most exciting gaming experience and minimizes eye fatigue. Moreover, the 1800R curve minimizes eye fatigue by reducing focal length changes. By imitating real-life perception, CJG5 helps users who move their focus quickly during games, even over longer periods of time.
The 144 Hz refresh rate allows for extremely responsive graphics and a play without interruption, which enrich the gaming experience. Play and cinema modes automatically optimize gamma black, contrast, clarity and saturation for any kind of games and movies. Users can also instantly check and control key settings during the game, using the On-Screen Display (OSD) menu with similar game menu interface.
"We are delighted to work with Samsung to support our game, Daker 18, at Gamescom 2018. The world's largest QLED game monitor, the CHG90, with a super-wide 49-inch screen, lets us show the beauty of the world in Dakar 18, a game based on the current landscape of Peru, Bolivia and Argentina in a stunning quality," said Paulo J. Gomes, director and producer of Bigmoon Studios at Deep Silver.