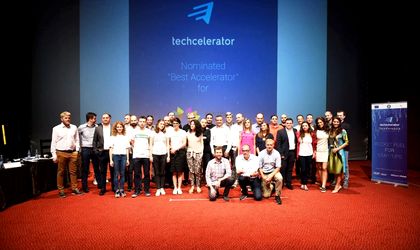 Techcelerator event gathered 12 start-ups that tried to get financing from GapMinder Venture Partners. The winner of Most Promising start-up Award was SafeRide from Bucharest, an IoT embedded device with a mobile app for moto riders safety. The start-up will enter in a process of finalizing a new round of investments totaling EUR 20,000.
The assessment was made based on the impact of the market issue solved by the solution, on the solution in it self, team performance, competitive advantages, financial elements and the start-up strategy. The jury included GapMinder Venture Partners founding members, start-ups ecosystem investors, journalists from publications focusing on start-ups.
Best Pitcher Award, consisting of EUR 10,000, went to EngageApp start-up, based on the votes of the public. EngageApp, developed by a team from Cluj, is a platform that aims to increase work performance of employees in corporations.
"All start-ups present at Demo Day have evolved a lot since they entered Techcelerator and I think the next period will be equally promising for them in terms of business grows and from our perspective, all of them are winners, thus we will have follow-on rounds. At Demo Day we wanted to test the reactions of the market, specifically experienced people like the ones we had in the jury. Ride Safe is one of the projects which evolves clearly toward a business and we consider it one of the champions of this cohort. We took into consideration the perception of the ecosystem regarding this start-up and we prove our confidence in its potential by investing another 20,000 euros in it to ensure a complete opening to the markets it is targeting", said Dan Mihăescu, founding partner of GapMinder Venture Partners.
Techcelerator Demo Day marked the completion of the first accelerated development round of the Techcelerator program for 12 tech start-ups from 8 cities,  benefiting from up to 100,000 euros investments per company from the GapMinder Venture Partners venture capital fund. GapMinder Venture Partners is mostly funded through the Competitiveness Operational Program 2014-2020 and co-funded by the European Regional Development Fund.
On the Demo Day stage were present start-ups from the first batch of Tehcelerator program that showcased their projects to the public:
The acceleration program, supported by Techcelerator's partner, was rolled out for a period of 10 weeks, both in Bucharest and Cluj-Napoca, with the support of more than 60 Romanian and foreign mentors. The event included sessions of intensive business coaching, mentoring, industry-specific start-up expertise, and marketing services. Start-ups also have access to international communities for scaling and exposure to the global market.
Techcelerator will accept a new series of start-ups starting the autumn of this year.