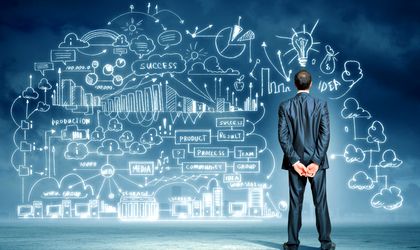 Around 69 percent of Romanians believe that technology has made them more efficient at work. This is the highest percentage in Europe, where the average is 55 percent, according to a study by Samsung Electronics in collaboration with Vitreous World.
However, few people believe that technology has given them more flexibility in terms of work – 59 percent do not think they can work from home or away more often as a result of the development of mobile technology.
According to the survey, Romanians enjoy the impact of technology at work and easily embrace the proposed innovations among mobile devices – 65 percent think that mobile technology has had a positive impact on the job, while the average in the EU is a bit less than 50 percent.
The study also explores ways in which mobile technology has reduced barriers between personal and professional time. Today, when work takes up most of the day, it is getting harder for people to have time for personal life. In this respect, 64 percent of respondents said that mobile technology has improved their work-life balance (the highest percentage in the EU, where the average is 43 percent).
The negative impact of technology
However, there is also a negative outlook on increased accessibility due to technology – 51 percent of respondents said that technology made them too accessible to colleagues and clients and 54 percent said they had become available for work outside office and hours (EU average: 45 percent).
In Romania, 42 percent of people find it difficult to disconnect from work, and 69 percent even take steps to ensure that there is a clear boundary between their work and their personal lives (EU average: 60 percent).
"Mobile technology has transformed the way we work and behave, both inside and outside the office. We call this Blurred World – The Blurred World, where everything, from working hours to the design of our offices, evolves because mobile devices transform workspaces, personal life and behavior into increasingly unclear concepts, "  said Alexandru Costache, Serom IM Head of Product Management at Samsung Romania.
The study also highlighted the fact that Romanians have relatively conventional hours of coming and going from work to the rest of Europe. In this respect, 42 percent start between 8 and 9 am, 27 percent end between 4 and 5 pm, and 14 percent leave work only at 7 pm.
The pattern of one week of work in Romanian is as follows: 25.5 working hours in a physical location, 1.8 hours of commuting, 4.3 hours of work at home (EU average: 1.5 hours), 0.7 working hours in a café / restaurant , 1 hour working in an open-air park / open space and 11.7 hours in a workplace with other colleagues (EU average: 7.7 hours).
Productivity and efficiency
When it comes to productivity, Romanian respondents say 81 percent feel more efficient when they are in the physical workplace and only 12 percent feel more productive when working from home. However, the idea of ​​work flexibility in terms of working space makes 71 percent think that they can be more productive. With the GDPR law now in place across Europe, understanding how human behavior at work influences data usage, security and privacy is important.
Businesses need to know that they can keep the confidentiality and security of their workforce intact whenever and wherever they use their mobile phones.
The General Data Policy Regulation – The General Data Protection Regulation has been a large part of recent newsletters and online messages. In Romania, 92 percent of people have heard about GDPR, and 48 percent of them think they understand well what this concept means. What is interesting here is the fact that in Romania there is the lowest percentage of people who agree that GDPR will affect the way they use mobile technology at work, ie 22 percent (EU average 50 percent).
The study was conducted on a total sample of 5,005 respondents in Europe, approximately 500 people in each country in which the study was implemented. Participants were people over 18 years of age who work full-time, part-time or self-employed.