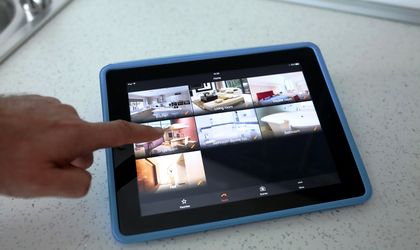 If in Belgium and France the smart homes reach 60 percent of the total of the newly built residential segment, in Romania this proportion is below 5 percent. However, smart homes are increasingly preferred by more Romanians, the growth of this segment being 30 percent per year. The most common solutions implemented are intelligent control of lighting, blinds and temperature, followed by sound and energy management.
Legrand is one of the leading players in the smart home solutions market, through its integrated MyHOME solutions, developed over the past decades based on understanding the needs of large categories of consumers.
"Our first ceramic switch was produced 100 years ago and since then we have invested heavily in research and development. Currently, Legrand is the global specialist in electrical and digital infrastructures, and our smart home systems are among the most modern and innovative on the market. It was natural for our offer to attract the customers from Romania, who are starting to prefer connected homes. They choose MyHome solutions because they offer a natural and easy control of digital devices, they can be adapted to the lifestyle and the time of day. Everything connected with the smartphone, so that the home becomes interactive," stated Calin Pascalau, General Manager of Legrand Romania.
One of the successful projects where MyHome Legrand solutions are accessible is the residential complex Casa del Mar in Mamaia, where the apartments are fully wired for the installation of automation solutions. Legrand standard packages for apartments with MyHOME solution start from 400 euros, for a studio with the standard functionalities and reach up to 1,200 euros, depending on your needs.
"Basically, with an investment that is smaller than that of a state-of-the-art phone, you can turn your home into a connected one – with much more visible and enjoyable changes in your life. In addition, our solutions bring significant savings in electricity consumption, up to 30 percent," added Pascalau.
The complete features of the MyHome solution are: lighting control, automation of curtains and drapes, garage doors, temperature setting, sound background, as well as energy management. The solution is modular and can be mounted very simply by an installer, provided the house is provided, with a special wiring.
For users, using the solution only involves installing the dedicated MyHOME Up application, available in the Play Store and Apple Store, and configuring the desired settings for each room.
In addition, users can create their own scenarios, which can be configured according to several parameters: geolocation, time of day or weather conditions. A scenario for when you return from the office may include: a certain temperature in each room where the solution is installed, favorite music, a level of lighting to relax, even opening the garage door or operating a socket that up to that poin  it had been stopped, when the user is at a distance of 500 meters from the house.
Another extremely useful Legrand product that can be integrated into the MyHOME solution or installed separately is the video intercom connected. Through it, users can see on the screen of the smartphone, even when they are not at home, who is at the door and can decide whether to allow access to that person's home.
Legrand is the global specialist in electrical and digital infrastructures. Its complete solutions for residential, commercial, office, education, data center, hospitals and other health centers, hotels and industrial buildings make it a standard in the field for users worldwide.
In Romania, the Legrand Group has been present for over 20 years and sells, through its distributors, the most varied and innovative electric products under the umbrella of 15 top brands, the most representative of which are: Legrand, BTicino, Zucchini, Cablofil.
Based on a program involving all key employees and partners, Legrand's strategy for sustainable growth includes the constant launch of high-tech products and services tailored to market needs and requirements. Legrand reported sales of approximately 6 billion euros in 2018.