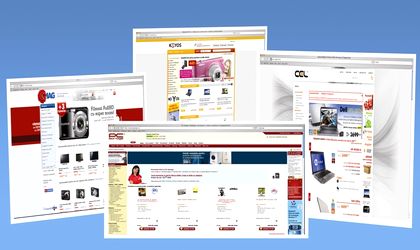 On a market where cash is king and conventional liquidity payment is the top choice for consumers, electronic payment is striving to assert itself. The feat is not as impossible as it may seem, since the potential is huge. The online payment market is predicted to reach EUR 170-180 million this year, say industry pundits.
"What services exist on the global markets are mostly present in Romania as well. What is different is the degree of adoption, which generally speaking is growing in our country. We are making remarkable progress. It also depends a lot on existing fears and the traditionalist view concerning payments, since cash remains by far Romanians' favorite payment choice," says Antonio Eram, CEO of mobilPay.
The e-commerce market is on course to reach EUR 350 million this year, including all methods of payment, but excluding payments for travel, insurance and utilities. One year later, in 2012, the market is predicted to reach EUR 500 million.
The market of online payments alone is estimated to reach EUR 170-180 million this year by industry pundits, while a year later, in 2012, the value will surpass EUR 200 million.
Companies in this field are in expansion mode, both in Romania and abroad, in line with the market. The PayU Group that ePayment, soon-to-be PayU Romania, is part of, is expanding its footprint in the region.
PayU Romania will be in charge of the technological export and technical and operational implementation of the online payment platform. At the moment, a local team made up of approximately 10 specialists in e-commerce has been deployed in the Hungarian office. But other countries are on the expansion map as well.
Similarly, the mobilPay CEO tells Business Review that the company wants to take its Sillicon Valley-awarded technology to other markets and is already planning the steps that it needs to take down the line. The company official did not specify the markets that are under consideration.
Where is the card put to use more? Data show that customers used their cards the most to purchase package holidays and plane tickets, as well as paying utilities, services and telecommunications bills.
"Tourism, air transport and utilities, including telecom, are generating significant revenues on the online commerce market, mainly because these are
services that do not require a physical evaluation from buyers as is the case
for electronic or IT products or clothing," Daniel Nicolescu, CEO ePayment
­tells BR.
When the user pays their bills, buys plane tickets or makes hotel reservations online, this saves time but also money.
Shoppers can avail themselves of such services with just a few clicks and no longer have trawl around travel agencies looking for the best offer or waste time queuing to pay their gas and telephone bills.
"Things are the same in this respect in most countries in the region: the travel and ticketing segment generates significant revenues among online payments, ranking among the top industries in countries such as the United States, United Kingdom, Russia, Turkey,
Poland and other countries in the region," says Nicolescu.
This year there was lightening-speed growth in payments on discount
websites. Some 400,000 transactions took place in the first half of the year compared to none last year when these websites did not exist, according to Eram.
The number of transactions is tipped to double this year compared to the last, reaching a total in excess of 3.5 million. "Since the growth in transactions is considerably higher than the growth in volume, the per transaction average will go down, and the reasons are of course discount websites.
At this moment, discount websites are driving the growth of the online payment market by card since these platforms post a growth rate of 10 percent in the number of transactions from one month to the next," says Eram.
By the end of the year, he estimates, the number of online payments by card on discount websites will surpass 850,000 transactions.
Since in e-commerce, over 80 percent of orders are placed with cash-on-delivery, there is great growth for potential in this area, says Eram.
Where does the growth lie? Some fields performed very well in the first half of the year, in fact more than 30 percent better.The services sector, which encompasses access to content, hosting and insurance, saw a 63 percent surge in the number of transactions in the first half of last year.
Sales of IT&C products also increased by 37 percent. The flower-sale sector grew by 28 percent.
Last but not least, book sales rose by 26 percent. The NGO sector is also a fast-growing one, since more and more non-governmental organizations have introduced the option of online donations, which led to a 27 percent surge.
"If until now we were talking about growth especially in the 'star' domains of this industry, the evolution in segments such as social, flowers, books and gifts shows that users are resorting to online payments for their standard day-to-day purchases. This is a good sign for the market," says Nicolescu.