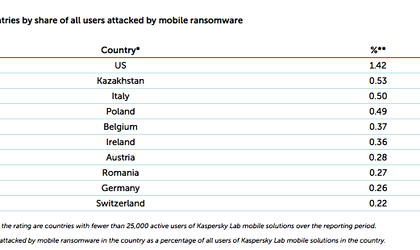 Kaspersky Lab researchers have found that the number of attacks using mobile malware has almost doubled in just one year. In 2018 there were 116.5 million attacks, compared with 66.4 million in 2017, with a significant increase in the number of unique users affected.
Despite the fact that many devices are being attacked, the number of malicious files has fallen, causing researchers to conclude that they have increased the impact and accuracy of mobile malware. Also, according to Kaspersky Lab's report on the evolution of mobile malware in 2018, Romania is ranked eighth among the top countries with the largest number of users attacked with mobile device ransomware.
As the world becomes more mobile, the role of smartphones in business and everyday life is growing rapidly. In response, cybercriminals pay more attention to how they distribute malware and attack vectors you use. The channels through which malware is delivered to users to infect their devices is an important part of the success of a malware campaign, taking advantage of those users who have no security solution installed on their phones.
The success of distribution strategies is confirmed not only by the increase in the number of attacks, but also by the number of unique users who have faced malware. In 2018, this figure grew by 774,000 compared to the previous year, reaching 9,895,774 affected users. Among the threats encountered, the most significant increase was the one of the troop-droppers, whose share almost doubled from 8.63 percent to 17.21 percent. This malware is designed to bypass system protection and deliver various other types of malware, from banking trojans to ransomware.
The top of the countries with the highest percentage of users attacked with mobile device ransomware is US-led (1.42 percent). Romania is present in this top, eighth with a score of 0.27.
 "In 2018, mobile device users have been confronted with what might have been the most violent cyber-attack ever seen," says Vistor Chebyshev, security expert at Kaspersky Lab. "Throughout the year, we've seen both new mobile device infection techniques, such as DNS hijacking, as well as an increased focus on enhanced distribution schemes such as SMS spam. This trend demonstrates the growing need to install mobile security solutions on smartphones to protect users from attempts to infect devices, regardless of their source."
Other findings included in the Mobile Malware Evolution report in 2018 include:
In 2018, Kaspersky Lab products protected 80,638 users in 150 countries against mobile device ransomware, with 60,176 samples of mobile ransomware trojan detected.
In 2018, a five-fold increase in the number of attacks using cryptocoins ore was observed.
In 2018, 151,359 installation packages for mobile trojans were detected, which is a 1.6-fold increase over the previous year.
To protect your devices, Kaspersky Lab experts recommend the following:
Only install apps from official app stores, such as Google Play, on Android devices or the App Store on iOS.
Block the installation of programs from unknown sources from the phone settings.
Do not override the device restrictions, as this could give cybercriminals unlimited capabilities to run their attacks.
Install system and app updates as soon as they are available – they fix vulnerabilities and keep protected devices. Keep in mind that mobile OS updates should never be downloaded from external sources (unless you are participating in official beta tests). Application updates can only be installed through official application stores.
Use reliable security solutions for complete protection against a wide range of threats.