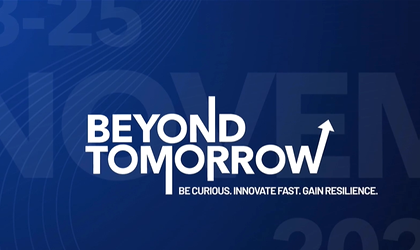 Beyond Tomorrow is a three-day virtual event organized by SAS, the analytics and AI leader, taking place on November 23-25, gathering leading organizations and business leaders across Central and Eastern Europe, Russia, Turkey, Middle East & Africa. The conference is a response to the needs of businesses on new strategies and approaches to overcome the effects of pandemic and adopt to the new circumstances. 
"The world is constantly changing, and businesses are struggling to navigate through the complex economic environment. Since the beginning of the year, we were faced with quickly adjusting to remote working, we witnessed unprecedented changes in customer behaviors while many governments executed regulatory changes. The strategies set at the beginning of the year had to be rewritten. The question now is how to move from reactive to proactive mode. Ability to adapt to the fast changing market needs, to deploy analytical models quickly and make business decisions based on analytics insights, becomes crucial to move beyond the crises and thrive in the current reality" says Shukri Dabaghi, Regional VP CEMEA, SAS.
Attendees can choose from a variety of content including interactive spaces and networking zones to form their personalized program. Agenda includes inspiring speeches from visionaries, trends talks, discussions, deep dive sessions for data scientists, industry and cross-industry knowledge sharing, executive workshops, career-driving academic and education sessions, games and demo booths.
Event speakers will showcase real business cases of how SAS can help transform a myriad of data into useful insights and present their practices of moving forward with the help of AI, advanced analytics, IoT, cloud and more.
Keynote speakers at Beyond Tomorrow are:
Raymond Kurzweil, Best-selling Author, Pioneering Inventor, and Futurist
Rik Vera, Founding Partner Nexxworks & Renowned Keynote Speaker & Author
Richard Van Hooijdonk, Trendwatcher, Futurist, & Human Cyborg
Jim Goodnight, CEO, SAS
Oliver Schabenberger, Executive Vice President, Chief Operating Officer and Chief Technology Officer, SAS
Shukri Dabaghi, Regional Vice President, SAS CEMEA
The registration to Beyond Tomorrow virtual conference is already open.