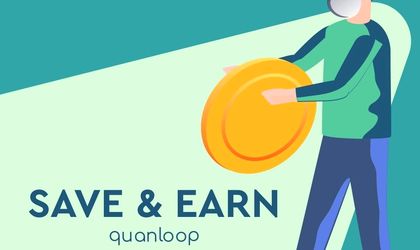 In the 21st century, it's hard to find a grown-up person that wouldn't know at least something about investment. However, the real thing is that the majority of people around the globe still think that investment solely belongs to the banking domain. This article aims to correct this common misconception using Quanloop, a fast-growing alternative investment fund, as an example.
What is Quanloop?
Quanloop operates by having users micro-lend blocks of 1 euro to the platform itself for a period of 24 hours, with the option to repeat the process indefinitely on any day that the user chooses. Benefits include a satisfactory rate of return and the ease with which you can access your funds, so it is well worth further investigation.
How does it work?
Quanloop is a credible option since it uses a deliberate method of capital allocation. Money from a number of investors is pooled at a predetermined interest rate and then distributed across several loans of varying maturities. Investor lend the money for a day, then puts it back in the investor's account the next day, only to take it out again if the investor doesn't withdraw. But if they do, their funds won't be contributing to the following day's pool, and the difference will be covered by someone else's balance. These funds, gathered from investors are invested in Quanloop's growing portfolio of assets in the form of long-term loans to its partners.
Who are the clients of Quanloop?
Those without a substantial starting bankroll may participate in the investing in Quanloop. Quanloop has a minimal entry point for investors, with a single euro being enough to get you in the game. Traditional stocks and bonds investors may benefit from diversifying their portfolios and allocating some of their portfolio balance in Quanloop, which allows testing the waters of alternative investments. It puts a person's savings to good use and makes it simpler to reach their long-term financial goals. This is one of the stable methods of alternative investments (especially taking into account profit to stability ratio) that people can find among European alternative investing platforms.
Diversification: Why is it important?
Quanloop doesn't provide diversification of many factors. It provides diversification only from the point of view of balance allocation into 3 different risk levels of investment assets, but all assets are the same class they are mostly credits to business. Quanloop limits allocation in medium and high-risk plans, so it limits potential profit but keeps the risk at appropriate level.
The investment you make in one of these risk plans is tailored to your history, interest goals, and expected investment horizon. Quanloop goes above and beyond conventional methods limiting risks
Many types of investment risks exist, and some are unique to a specific business. One of the examples of diversification is when you invest in stocks and split your portfolio between different stocks market to avoid the situation when 1 market (for instance, airlines) collapses and may take major part of your portfolio value.
Keep in mind: not all investments can be profitable
Investments made via Quanloop are not covered by a payback guarantee or some kind of protection. There is no such thing as a refund policy in the market. On the other hand, it connects business borrowers and investors via its own unique alternative lending platform. As such, it serves as a wholesale finance source for commercial clients.
There are three different risk plans available on Quanloop. They are: low, medium, and high. The low-risk plan is intended for risk-averse investors, while the high-risk plan is tailored to people who like taking calculated risks. Yet, putting all of one's eggs in the high-risk basket is not a viable strategy. Instead, individuals may put up to half of their savings into the moderate or 1/3 to high-risk plan. Because of this, they are able to avoid taking unnecessary risks.
How to become a part of it?
There is no onerous red tape for clients to go through to open an account and begin investing in Quanloop. Registration, topups investing, and withdrawing are all totally free. Quanloop's signup process is very straightforward, requiring either the user's raw email address or the user's social media account information. The necessity for a password, which is, let's be honest, often forgotten, is eliminated. Quanloop requires investors to provide identification and provide an up-to-date address to join as verified investors. After verification, investors may fund their Quanloop accounts with a wire transfer and immediately start investing.
Final word
As you can see, Quanloop is an excellent choice for those who do not want to invest their money in conventional assets and spend their time on a portfolio management process. However, remember that there is no such thing as a 100% safe investment. Therefore, you have to be sure that you are ready to put that money into the game.